YouTube is one of the most visited websites in the world, with over a billion hours of video watched every 24 hours. Some of the most popular YouTube channels have tens of millions of subscribers and billions of video views. However, many other channels struggle to attract any viewers.
A large YouTube audience is an indication of the success of your brand. It demonstrates that people find your content valuable.
Growing a bigger subscriber base also boosts your credibility. Consumers are more likely to trust a brand that has a large online presence, which is why influencer marketing has become so successful.
So, what are the top YouTube channels in 2021? The answer may surprise you. Here are the 12 most popular channels on YouTube.
1. T-Series
182 Million Subscribers
T-Series takes the top spot as the most subscribed channel. T-Series is the YouTube channel for Super Cassettes Industries Private Limited, an Indian music company. It was founded in 1983 and is known for its hit Bollywood movie soundtracks. T-Series is also the largest music record label in India.
The T-Series YouTube channel mostly features Hindi language music videos from its soundtracks and artists signed to the record label. However, Bollywood is one of the biggest industries in the world, which helps make T-Series a top channel.
T-Series joined YouTube in 2006 and did not start uploading videos until 2010. By 2013, the channel had amassed over one billion views. It became the most viewed channel in 2017.
While most of the audience for T-Series lives in India, the channel also has millions of subscribers from around the world. About 40% of the channel's visitors come from outside of India.
2. Cocomelon – Nursery Rhymes
111 Million Subscribers
Cocomelon produces popular videos featuring nursery rhymes and other songs for children. The videos feature colorful animation and are targeted at toddlers.
Cocomelon started as "ThatsMEonTV" in 2006, creating free educational videos for children. The channel changed its name to Cocomelon in 2018 and surpassed $120 million in ad revenue by the following year.
The popularity of Cocomelon skyrocketed after the release of the "No Bedtime Song." Despite the success of the channel, the company behind the videos has a team of just 20 employees. Cocomelon was acquired by Moonbug Entertainment, which is a British company, but the videos continue to be produced by an American company – Treasure Studio.
The company also sells merchandise featuring characters from the channel's videos. The toys include plush dolls and various toy vehicles.
3. PewDiePie
110 Million Subscribers
PewDiePie is the most popular YouTuber, as the previous two entries are companies. However, PewDiePie does not work alone. His success has allowed him to expand his production capabilities and hire staff to assist with video production.
Born Felix Arvid Ulf Kjellberg, PewDiePie was the first YouTuber to reach 100 million subscribers. He started making videos in 2010 and originally focused on the video game industry before expanding to include comedy.
Some of the earliest viral videos were produced by PewDiePie. He has also had a few controversial moments. He has dropped racial slurs and committed a variety of gaffes. However, his continued success is an example of how to deal with public relations issues and come out on the other side stronger.
PewDiePie remains one of the most popular YouTubers due to his commitment to making high-quality YouTube videos and the loyalty of his fans.
4. SET India
103 Million Subscribers
SET India is the YouTube channel for Sony Entertainment Television (SET). It is the second-largest Hindi-language YouTube channel after T-Series.
As the name suggests, SET is a subsidiary of the Sony Group Corporation out of Japan. The Japanese company launched the SET pay channel in 1995.
The YouTube channel mostly comprises movie and TV trailers, along with occasional music videos. However, it also contains full episodes of some shows featured on the pay-TV cable channel.
Some of the most popular videos on the channel include clips from the latest episodes of Indian Idol, talk shows, and soap operas. The channel is also gaining new subscribers rapidly and may soon surpass PewDiePie.
| More fun list: What is the Most Viewed Video on Youtube?
5. Kids Diana Show
78.2 Million Subscribers
Kids Diana Show is an entertainment channel starring a girl named Diana. Her parents help her produce original videos featuring Diana and her brother Roma. It is the most subscribed Ukrainian YouTube channel and the second-largest channel dedicated to kids.
Diana mostly plays with toys and her brother, but also films vlogs and educational content. Just under a year ago, this channel had about 64 million subscribers. It has rapidly attracted more subscribers as YouTube has become a go-to source for parents who want to find free videos for children.
Due to the success of the channel, it is now dubbed in a variety of additional languages, including Hindi and Japanese. However, the videos are already known for featuring less dialogue compared to other children's videos.
6. WWE
76.7 Million Subscribers
WWE is the most subscribed sports channel on YouTube. It is the official YouTube channel of World Wrestling Entertainment (WWE).
While several of the previous entries feature English-language videos, WWE is the most popular channel from a company based in the United States. WWE has a long history as an American entertainment company. It was founded in 1953 as Capitol Wrestling Corporation and now holds over 450 live events per year around the country.
WWE is another channel that has rapidly grown its subscriber count. It continues to gain over a million subscribers each month. The WWE has increased its reach by trying to connect with viewers across the globe. This is a strategy that the company has used for decades going back to its licensing deals with overseas television networks.
Instead of focusing on a single region, WWE has spread its influence around the world. The company continues to draw fans from every corner of the globe.
7. Like Nastya
73.6 Million Subscribers
Like Nastya is an entertainment channel featuring Nastya. As with "Kids Diana Show," the "Like Nastya" channel stars a little girl engaging in various activities.
The channel originally focused on unboxing videos and showcases the latest toys. However, the channel now revolves around Nastya's trips around the world to visit amusement parks.
The videos are produced by Anastasia "Nastya" Radzinskaya's parents. Her parents quit their day jobs in 2015 to pursue YouTubing full-time. They used their life savings to fund trips to amusement parks until the channel became profitable.
The "Like Nastya" channel has an estimated annual income of about $18 million. Along with the main channel, the family maintains five additional channels. After combining total views and subscribers across all channels, Nastya is the most successful children's YouTuber.
| More fun list: What Is the Most Liked Video on YouTube
8. Zee Music Company
72.4 Million Subscribers
Zee Music Company (ZMC) recently surpassed 5-Minute Crafts to become the eighth most popular YouTube channel. It is the third-largest Hindi-language channel and another major source for Bollywood music videos.
Along with the Zee Music Company YouTube Channel, the company operates the Zee TV channel, which is currently the 15th most popular channel.
Zee Music Company has strived to reach the same level of success as T-Series. The company has signed music rights deals with a wide range of companies to increase its catalog of music.
Sony Music India, which is the Indian record label owned by Sony of Japan, entered negotiations to merge companies. Zee Music Company is currently the second most successful record label in India after T-Series. The merger could put the competitors on equal ground, as it would give Zee Music Company the rights to a long list of movie music soundtracks.
9. 5-Minute Crafts
72.3 Million Subscribers
5-Minute Crafts is a YouTube channel owned and operated by The Soul Publishing. The channel publishes do-it-yourself (DIY) videos teaching viewers how to complete various crafting projects. The videos are typically compiled from content that was originally published on Facebook and Instagram.
Minute Crafts also produces videos on life hacks. However, the channel has also courted controversy for occasionally offering potentially harmful advice and clickbait videos that serve no purpose.
For example, one video demonstrated how to soak an egg in vinegar and maple syrup. The creator of the video falsely claimed that soaking the egg would make it bigger.
In another video, a strawberry is soaked in bleach to make it a "white strawberry." Health experts have warned that ingesting bleach is dangerous and potentially deadly.
While the channel continues to produce questionable videos, it remains the most-watched channel for DIY videos.
10. Vlad and Niki
67.1 Million Subscribers
Vlad and Niki are brothers living in Dubai. It is an English-language channel featuring the young brothers engaging in pretend play and other activities in and around Dubai.
The "Vlad and Niki" channel is another example of YouTubers changing their focus to appeal to their subscribers. The brothers originally recorded unboxing videos before transitioning to reality programming.
The yearly earnings for the channel may range from $2.3 million to $37.3 million. The channel makes an estimated $312,000 per video.
As with other popular YouTubers, the brothers have signed several licensing deals. Their names and likenesses appear on a wide range of video games and mobile apps.
They appear to be copying the formula used by the "Like Nastya" team by creating a series of related channels to boost their overall subscriber count. Along with the "Vlad and Niki" channel, the family has close to a dozen additional channels.
11. Canal KondZilla
64.1 Million Subscribers
Canal KondZilla is the official YouTube channel for Konrad Dantas, better known as "KondZilla." Konrad Dantas is a Brazilian artist and founder of KondZilla Records.
Canal KondZilla is the third-largest music channel. It hosts videos from Konrad Dantas and a variety of other artists. However, Konrad Dantas started his professional career as a web designer before pursuing a career in video production.
He launched his video production company in 2011 and KondZilla Records in 2017. He has produced over 1,000 music videos. The vast collection of videos is part of the reason behind the success of his channel. Canal KondZilla has music videos to appeal to a wide range of users.
| More fun list: What Is the Most Disliked Video on Youtube?
12. Justin Bieber
63.1 Million Subscribers
Pop star Justin Bieber has the most subscribed-to channel by an English-language musician, with a little over 63 million subscribers. Justin Bieber was discovered by an American record executive in 2008 and became a worldwide sensation shortly after.
Nothing is surprising about a musician holding a top spot on a list of the most subscribed channels. Music is one of the biggest categories on YouTube. Users tend to spend more time watching music videos compared to viewing educational content.
Along with having one of the most subscribed YouTube channels, Justin Bieber is among the best-selling recording artists in the world. However, several other artists are close behind.
Marshmello has 52.4 million subscribers while Ariana Grande has just over 48 million subscribers. These artists remain at the top of the charts, which may be enough to help them gradually climb past Justin Bieber.
Conclusion
The top 12 YouTube channels are watched by millions of people every day. It is also worth looking at some of the runner-ups, including MrBeast, Blackpink, Zee TV, and Dude Perfect. Out of these channels, Dude Perfect has the most potential to climb higher, due to their funny sports videos and unbelievable trick shots.
Achieving tens of millions of YouTube subscribers is unlikely for the typical business or entrepreneur. However, the most subscribed channels demonstrate the power of growing your audience. Building a large subscriber base makes it easier to reach more people and retain recognition in your industry.
Play videos from some of the top YouTubers to see why they attract millions of subscribers. You may learn a trick or two about how to produce better content and appeal to your target audience.If you like these YouTube statistics and want to grow your channel to have a large fan base, sign up with TubeKarma and get popular!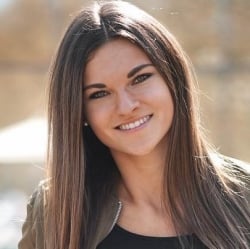 Latest posts by Anne Haynes
(see all)