YouTube has become a haven for viral videos from a variety of genres, including music, comedy, and gaming channels. This incredible platform is one of the most popular in the world, and it is no wonder that some videos have received billions of views.
In today's article, we will look at the most viewed YouTube video, as well as some extra tips on how to become a successful creator and build your channel.
You may believe that obtaining one million views is impossible, but this list will show you what people find most intriguing and how to use it.
You also might be interested in:
What Kind of Videos are Most Popular on YouTube?
YouTube has billions of creators and countless more viewers who compete to be the best on the platform. Some are more successful than others, with high rankings on our most popular videos.
However, there are a few things you can learn from the most famous videos and creators, and even emulate their formula for success.
Here are a few crucial considerations to keep in mind:
Be distinctive – Creating high-quality content requires time and effort. Even the most well-known influencers understand the value of one-of-a-kind products.
Produce repetitive content – Videos that can be watched repeatedly have a higher possibility of being viewed by millions.
Music has a lot of potentials – Not all youtube videos are music videos, but music videos that can be played indefinitely have the most potential for a vast number of views.
Always stay up with the current trends to keep your channel interesting. Whether you prefer music, comedy, or children's programming, YouTube has a place and an audience for everyone.
What are the most viewed YouTube videos?
Many videos with millions of youtube views are deemed successful; nevertheless, there are some that are more than viral and have billions of views.
The list is dominated by popular children's songs and channels, although it also includes a few music performers.
Here are the most popular YouTube videos:
Pinkfong Kids' Songs & Stories – Baby Shark Dance
Number of YouTube views: 8,6 billion
This is one of the most well-known songs among children of all ages and their parents and the most viewed video of all time. The renowned song is simple, yet incredibly catchy and entertaining. It has all the ingredients for success written all over it, with dance included.
The Baby Shark song is so famous that there are other variants accessible on YouTube, but the original is still the most viewed.
Because many prominent singers and artists are behind this children's song, it demonstrates that it does not take much to become a successful YouTube creator.
Luis Fonsi ft. Daddy Yankee – Despacito
Number of YouTube views: 7,3 billion
This song is well-known for a variety of reasons, and almost no one is unfamiliar with it. Despacito had a tremendous effect on songs that were not written in English and inspired other composers to explore the beauty of their own languages.
Despacito is a vibrant and catchy song that is played at every party, radio station, and other event, reserving the top spot on any list.
It is no wonder that a song with rhythmic music and passionate lyrics like this one became so successful.
Ed Sheeran – Shape of You
Number of YouTube views: 5,3 billion
Ed Sheeran is one of those performers whose songs have millions of views, but this one is by far his most popular video of all time, with over 5,3 billion views.
The lyrics' honesty became an iconic method to express love and gratitude, and many couples chose this song to be "theirs." The number of views is unsurprising given that the music is so amazing that it may be played on repeat indefinitely.
LooLoo Kids — Johny Johny Yes Papa
Number of YouTube views: 5,3 billion
Another children's video on this list, following in the footsteps of our previous author. This brief and simple video has been seen billions of times by youngsters all around the world.
It just shows a naughty young infant that craves sugar cubes and a loving papa. This video's tremendous success demonstrates that even the shortest and most simple songs can go viral if they capture the attention of viewers.
This is a positive thing, because almost anyone with perseverance and creative desire may become renowned. You may be closer to a million views and followers than you realize.
Get Movies – Masha and the Bear Recipe for Disaster
Number of YouTube views: 4,4 billion
To demonstrate that YouTube is not just for music, our next choice on the list is a Russian animation. Masha and the Bear is a popular children's cartoon with numerous episodes depicting the extraordinary and hilarious lives of Masha and her closest friend the Bear.
The popularity of those characters, and particularly this episode, has grown over time and shows no signs of abating.
Mark Ronson ft. Bruno Mars – UpTown Funk
Number of YouTube views: 4,1 billion
The unique and fun renowned hit UpTown Funk is one of the oldest videos in our collection. The words, along with an incredible beat, sent the song to the top spot of every chart in the globe, as well as billions of views on YouTube.
The routines and music are a terrific encouragement to start shooting and uploading your own films on YouTube. Because practically every famous channel started small, it is feasible to become the next YouTube sensation overnight and grow your influence.
Justin Bieber – Sorry
Number of YouTube views: 3,4 billion
Justin Bieber was found on YouTube, therefore it is only logical that he has one of the most viewed videos on the platform.
This young celebrity has numerous renowned songs with millions of views, but the smash "Sorry" was the most popular. Once again demonstrating that YouTube is mostly utilized for music videos, but it is gradually expanding to other niches and creative material.
Katy Perry – Roar
Number of YouTube views: 3,3 billion
Katy is the only female artist on our list with a couple of billion views on her upbeat and inspiring video. The musician is known for pushing boundaries and singing about bravery and girl power, yet this song was one of her most popular.
It is a great illustration of what a large fan base can achieve and how your followers can increase the number of views on your videos. This is a fantastic motivational song, not just in terms of words but also in terms of views and potential.
Final Thoughts
The list of most popular videos demonstrates several things, including the opportunity for anybody to become a renowned creator. While music videos are unquestionably the most popular on the website, children's songs and videos are not far behind.
This demonstrates that every niche has the potential to become the next big hit that everyone wants to hear. If you are not secure in your singing and want to pursue other artistic endeavors, start today, and you could become a phenomenon tomorrow.
The crucial thing to remember is that popular videos are interesting and of good quality, and people love listening to them on repeat. A large fan base will always be necessary to push any content further and, without a doubt, gain you more views.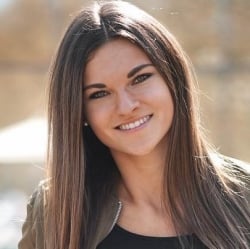 Latest posts by Anne Haynes
(see all)