They say that on the internet, content is king. And of all content, video content rules. This is why YouTube is one of the most relevant platforms we go to for our fill of content on the internet.
YouTubers know this, and YouTubers value the opportunity they have on their hands. YouTube is not ranked behind Google as the most visited search engine for nothing. All those subscribers, likes, shares, and views amount to millions of dollars that video content creators are reaping.
You surely know this by now, but you may not fully understand how to get to the point of making big returns on the YouTube platform. Before you go dreaming about making money and attaining the fame your YouTube channel can get you, there is this thing called YouTube Analytics that you should master.
YouTube analytics is a tool that YouTube provides creators with all the data needed to direct their channels toward the fruitful path they should take.
YouTube Metrics That Really Matter
If YouTube analytics is the foremost tool for YouTube video optimization, what functions of it should you keep a keen eye on? Sure, all the metrics YouTube analytics give you are the data that will help you in one way or another. But a few of these metrics stand out more than the rest in terms of furthering your channel's ability to get views, comments, shares, subscribers, and likes.
There is a long list of data analytics YouTube provides you with, but if you were to keep an eye on just a few areas, we recommend that you prioritize the most important ones. Here is an enumeration of video analytics metrics that matter most:
1. Watch Time – Watch time is the metric that measures the accumulated minutes viewers have watched your YouTube videos.
This key metric sits on top as the most important YouTube analytics metric for a couple of reasons. Firstly, the YouTube algorithm prioritizes your YouTube channel's videos in search results, feeds, and recommendations if your videos have higher watch times.
Secondly, this metric allows you to see which of your uploaded videos have gotten the greatest number of views. This invaluable information helps you plot out what to do next with your YouTube channel.
With information like watch time, you get a clear picture of what to do and what to do less of. Watch time enables you to objectively see which of your videos are more engaging.
2. Average Percentage Viewed – This metric illustrates how much of your video is viewed. Do viewers watch through to the end? Or do they just watch until halfway through and move on to watch other videos? 
The average percentage viewed is also a big factor by which the YouTube algorithm considers your videos worthy of recommending to its users. Lower measurements on these metrics mean that you have to up your efforts on making your videos more engaging.
3. Average View Duration – This metric shows you how a video on your channel is doing in terms of how long it is watched on average. This is calculated by taking the total watch time of a video divided by the number of video plays in total, including video replays. 
This metric is very similar to the previous Average percentage viewed metric, but Average viewed duration measures engagement in minutes viewed, while the latter measures your video's performance in what percentage of your video is viewed.
5. Engagement – This bit of video analytics shows how much interaction your videos get through comments, likes, shares, and dislikes. All these will give you an idea of how well your video is received by your intended viewers. 
Shares of your video denote how much your viewers identify or relate to your content. Likes and dislikes show what your niche thinks of your video. Better engagement also makes the YouTube algorithm rank your videos higher for recommendations.
6. Unique Viewers – Your video may have thousands of views, but this may not necessarily reflect the number of actual people who have viewed your video. The Unique viewers metric reflects an estimate of the number of unique views of your video in a given duration.  
If you get more unique views than subscribers, you will have to look into transcending beyond your niche. If you are getting fewer unique views than your subscriber count, then this should prompt you to come up with content that your niche would be more interested in.
7. Demographic – This metric shows you if your target audience demographic is actual viewers of your videos. This information gives you a picture of your proper video content strategy based on the gender, age, and geographic location of your viewers. 
8. Subscribers – This metric should give you a basic forecast of how well your video will do based on your subscriber count. A decent subscriber count will assure your video of a decent view count. This is mainly because your videos are being fed into their YouTube home page every time you publish a video. 
These people are the ones who believe in you. They are your fans who spread the word about your work on the internet and beyond. Take care of your YouTube subscriber growth, and your subscribers will take care of you.
How to View Your YouTube Analytics
To view your YouTube Analytics, we recommend that you use a laptop or PC to access your channel's YouTube Studio. Do the following steps to gain access to your YouTube analytics:
1. Log in to your YouTube channel on an internet browser like Google Chrome or Mozilla Firefox.
2. Click on your profile picture at the upper right-hand corner of your YouTube home screen.
3. Click on the 'Your Channel' tab on the drop-down menu that appears.
4. Scroll down and look for the 'YouTube Studio' tab on the leftmost menu of your screen.
5. On the following screen, click on the 'Analytics' tab on the menu below your profile picture.
6. All your analytics will be found under the 'Overview,' 'Content,' 'Audience,' and 'Research' tabs.
Top YouTube Analytics Tools of 2023
The native YouTube analytics tool offered by YouTube Studio is pretty significant and comprehensive. But there are other tools that you could use to garner critical information regarding your YouTube channel's performance.
Most of them are paid services but could be worth more than what you pay if they get you information that could blow up your channel's reach beyond what you dreamed of.
In no specific order, here is a list of YouTube analytics tools that may aid you in the quest for more views, engagements, subscribers, and more:
1. Vidooly – For only $9.00 a month, Vidooly gives you insights into what kind of videos your target demographic prefers to watch. This information will help you pivot your content strategy toward what your ideal audience wants to see.
2. Socialinsider – For $99.00 a month, Socialinsider gives you access to the data about the performance of your competitor's YouTube videos. Socialinsider hopes that this extra step into analytics will help you ascertain the next actions and direction your YouTube channel should take.
3. Unbox Social  – Starting at $9.00 a month, Unbox Social will provide analytics not only for your YouTube channel but also for your Facebook, Twitter, and Instagram. It also gives insights into your channel's demographics, subscribers, shares, likes, and a lot more.
Unbox Social also gives you recommendations on the best time to post videos to your YouTube channel.
4. Social Bakers – At a pricier $240.00 per month, Social Bakers deliver three main services via their Content Intelligence tool, Audience Analytics tool, and Social Media Monitoring Tool.
Each tool gathers data and insight to improve your channel's situation regarding content quality, audience preferences, and other social media platform analytics.
5. VidIQ – Starting at a mere $7.50 per month, this tool provides you with a Chrome extension that provides you with YouTube analytics every day.
Analytics Are Key
By now, you should know that success on the YouTube platform is more than just hoping to go viral. YouTube fame requires a level of analysis from you. Make YouTube analytics your key to always putting out timely quality content, and you might just be the next big thing YouTube has to offer.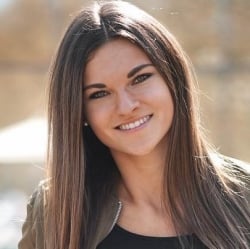 Latest posts by Anne Haynes
(see all)