Many people enjoy using social media to stay connected with loved ones and have a good laugh from time to time. However, some like to take their accounts to the next level and start earning from them, but how can you do that? This article contains some ways you can monetize your social media channels.
Why Should You Monetize Your Social Media Accounts?
With a growing number of active users, social media has become an excellent platform for individuals to expand their businesses and reach out to their target audience.
Social media allows individuals and brands to create awareness and help drive traffic and profit. That said, social media monetization does require a lot of time, from creating content to interacting with your audience. Furthermore, you have to ensure that all activities you carry out on these platforms are in line with the rules and regulations.
After considering all that using social media entails, you might be concerned about whether all the time you spend improving your branding, creating and posting content, engaging your audience, and commenting can lead to massive sales.
Ultimately, you can make a sizable amount of money from social media. However, you will be unable to see results immediately.
So, if you enjoy using social media and creating content, you should consider monetizing your platforms because it gives you a chance to increase your brand and make money doing what you love.
How to Monetize Your Social Media Channels?
From Twitter monetization to YouTube ad revenues, you can find numerous ways to make money on social media. Here are some of those methods.
Try Influencer Marketing
Brands love to work with influencers because it allows them to reach a wider audience and provides a level of credibility they cannot attain on their own. That said, getting the attention of big brands can be challenging, but it is not impossible.
All you need to do is focus on creating quality content in your preferred niche. Once you have done that, you can slowly build your reputation in this niche and gain a large following.
When your platform has reached a certain level, you will find that companies will reach out to you to advertise their services and products.
Promote Affiliate Products
There was a time when affiliate marketing on social media was one of the best ways to make money online. This was mostly because of how easy it was to create spam campaigns on a large scale.
Even though affiliate marketing has been displayed in a bad light, you can still find legitimate and efficient ways to do it.
If you do decide to sell services or products to someone else, you should make sure you understand what you are selling and trust that you are selling something credible. Do not sell products or services simply because you want to make money because this could hurt your credibility and social media platforms in the long run.
Sign Up for Platform-Specific Monetization Programs
Social media platforms require content creators to increase the number of engaged users, which in turn, enables brands to run ads. Therefore, these platforms are always looking for ways to help creators earn money as they create content.
Granted, the platforms also earn money from you, but in the end, you are doing what you love, so you might as well make money from it.
Here are some programs you can sign up for on various social media platforms.
TikTok Creator Fund
TikTok already has numerous ways for you to monetize your account, from branded content to the Creator Marketplace. The Creator Fund is just another way for you to make more money on this social network.
The program is quite simple; TikTok pays you based on the number of views you attract. However, you do have to meet certain strict eligibility criteria, but if you qualify, you can earn money from the content you already make.
YouTube Partner Program
There are several ways to make money, such as YouTube advertising revenue and video view earnings. However, this Partner Program is one of the best YouTube monetization strategies for content creators.
To qualify for this program, you need to have a minimum of 4000 watch hours and 1,000 subscribers. This program allows users to earn money by only having a few thousand viewers or a single trendy video. Nevertheless, ensure to work on your YouTube growth as best you can.
Instagram Subscriptions
Instagram Subscriptions is a feature that provides you with the option to add a membership to your account.
With the plan, your social media followers pay a monthly fee to gain access to exclusive content, such as live streams, Reels, subscription-only posts, and others.
Unfortunately, this Instagram monetization feature is only available to creators based in the U.S. However, there is more than one way to earn on Instagram.
Instagram and Facebook Reels Bonus Program
Meta regularly runs bonus programs that allow you to earn via Instagram Reels views or other milestones on Facebook.
While this is a great Instagram and Facebook monetization method, these programs are invite-only and only available to creators in the U.S. If you happen to meet this criterion, you will receive an in-app notification prompting you to sign up for the program.
Generate Leads
You do not need to make money directly on social media. Growing a massive following can be the first step in your monetization process. After reaching your target mark, you can use your social media audience to promote your business outside the social media network.
For example, if you sell clothes, you can use your social media accounts to shed light on the value of your products and generate leads for your company.
You can generate leads by using call-to-action buttons or high-quality cover photos to properly convey the quality of your product to a potential customer.
Sell Your Courses
Thanks to the internet, it has become quite easy to share information and knowledge. If you are an expert in a specific field, you can use that to your advantage and share your knowledge with others. Social media is a great platform to do this.
You can sell e-learning materials such as online courses, self-published e-books, or even videos. If you post credible social media content that educates others, people will want to pay to learn more from you, meaning you increase your income.
Offer Consulting Services
Consulting is a lucrative business idea that comes with a lot of perks, from flexible work hours to high earnings. It is no wonder traditional 9–5 workers are quitting their jobs and becoming consultants. However, this career path is not for everyone.
Before you consider becoming a consultant, think about your everyday life. Do you have friends, family, or others reach out to you for advice regarding an issue? This issue could be anything from financial budgeting to marketing strategies.
So, if you have knowledge that others consider valuable, you can use it to start your consultation gig. You can work with various clients on projects and help them reach their goals, be it online or otherwise.
Offer Coaching Services
A lot of people have coaches. Even people like Bill Gates, who you wouldn't expect to have one, do, so it is not a bad idea to start a coaching business.
There are various types of coaches, and while you might not be as skilled as others, you can use the coaching opportunity to gain experience and monetize your social channels.
While similar, coaching and consulting are not the same. As a consultant, you are likely to work on an hourly basis or per project.
On the other hand, coaching typically requires a more hands-on approach that feels more personal than consulting. As a coach, you will most likely work one-on-one with your client or a small group.
Conclusion
Social media is a wonderful place to connect with people from around the world, but it does not have to stop there. If you are a creator and want to use your platform to earn money, there are several ways of monetizing social media.
While some require you to meet certain criteria, others are easy, and you can start without any requirements. Ultimately, it is up to you to choose how you can monetize your social media accounts.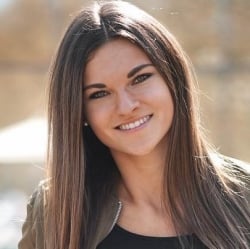 Latest posts by Anne Haynes
(see all)