If You've ever speculated about which YouTube videos have gotten the most likes, then this list of the top 10 most liked videos on YouTube is for you!
Be warned that this will look and feel more like an MTV countdown in the '90s more than anything because it is unexpectedly also a list of the most successful music videos on YouTube. 
Number 1: Despacito by Luis Fonsi featuring Daddy Yankee with 44 million likes
If we were talking about the single most liked YouTube video of all time, nothing comes close to the 44.54 million YouTube likes for the song Despacito.
The Like and Dislike system of rating YouTube videos has been in effect for 11 years and despite being on YouTube for only 4 years after being uploaded to YouTube in 2017, Despacito has blown the competition out of the water for the greatest number of likes to claim the number one spot in 2018. The catchy Reggaeton Latino Pop song has never looked back since and has been amassing likes up to the current year 2021.
Number 2: See You Again by Wiz Khalifa featuring Charlie Puth with 34 million likes
See you Again by Wiz Khalifa featuring Charlie Puth is by no means a slacker with 34.33 million likes. See You Again had the most meteoric rise to the summit of the most liked list, securing 1st place in the same year it was uploaded to YouTube in 2015. This tune is the soundtrack to Fast and the Furious 7 and its dedication to the early passing of Paul Walker made the song the poignant anthem to Walker's memory.
Number 3: Dynamite by BTS with 28 million likes
Dynamite by arguably today's biggest pop group BTS is poised to soon surpass See You Again by Wiz Khalifa and Charlie Puth for the second spot of the most liked YouTube videos. Dynamite already has 28.6 million likes garnered despite being on YouTube for only 10 months as of June of the current year, 2021.
Dynamite has proven to be the biggest song debut across all music and social media and platforms by having a commercial performance never seen before in this current landscape of the music industry. Dynamite has surpassed a lot of milestones set by established artists like breaking the record for having the shortest time of 11 weeks to reach and surpass 100 million cumulative streams on Spotify. – An honor that was previously held by Ed Sheeran's Shape of You in 2016. By February of 2021 saw the song has exceeded 250 million downloads and has garnered platinum certification by several recording industry associations across Asia, UK, and the US. Dynamite has given BTS the honors of being their first top 1 hit in the US Billboard Hot 100 and on its debut in the said chart nonetheless.
Number 4: Baby Shark Dance by Pinkfong! Kids' Songs and Stories with 28 million likes
Unlike the top three videos of this list who have decisively intended to have millions of likes, the Baby Shark Dance version by Pinkfong owes its 28.53 million likes to serendipity and luck. Like with most things that go viral, no one could have guessed that Pinkfong's version of the Baby Shark Dance would be such a viral global hit that it even holds the title of the most-watched video of all time with more than 7.5 billion views on YouTube surpassing Luis Fonsi's 7.04 billion Despacito views.
The Baby Shark Dance YouTube video is a children's song that features Antonin Dvorak's Symphony no. 9 over a Jaws Movie stalking shark theme song for the intro that transitions into a whimsical beat-driven number that is about a story of a family of sharks hunting fish and two adorable little children. The song is a 2-minute quirky number that sparked a dance craze that seems to be enjoyed more by adults than children to which the version was originally intended for.
Number 5: Shape of You by Ed Sheeran with 27 million likes
The 5th most liked video on our list has amassed 27.05 million likes as of June of 2021 and has consistently been the top 4 of this same list – only being bumped down a notch by newcomer Dynamite by BTS. Shape of You has managed to garner 5.3 billion views since it was uploaded in January of 2017.
The music video of the song was directed by Jason Koenig and is a story of how two lovers meet and fall in love at a boxing gym they both frequent. The video's story sets Sheeran as the male protagonist and starts like any other romance but the story twists for the quirkiest ending when Sheeran fights a sumo wrestling match with the world's heaviest man.
Number 6: Faded by Alan Walker WITH 23 million likes
Representing the EDM scene in this top 10 list is the music video of Faded by Alan Walker. Faded is probably one of the most recognizable songs on the internet due to people using it as background music in countless other videos. Faded's music video on YouTube has garnered a total of 23.24 million likes since being uploaded in December of 2015.
Filmed in some abandoned town in Estonia, the music video shows a masked guy roaming the run-down ruins while clutching an old picture of his childhood home. He travels through the ruins of the town until he arrives at a building where he pulls out a flare to explore the darkness. The protagonist seems to be guided by the old picture and you get the impression that he just desperately wants to go home. He does find his home but finds it in ruins. He takes off his mask and the music video fades to black.
Number 7: Boy with Luv by BTS with 22 million likes
BTS are the only artists who have 2 entries on this top 10 list with Boy with Luv. Boy with Luv holds the current record of the most viewed music video (74.66 million views) within 24 hours when it was released in April 2019 and currently has 22.93 million Likes on YouTube.
If you're wondering how BTS manages to break several records every time a song is released, then it is probably time you knew about the BTS Army. The BTS faithful or the BTS Army, as they call themselves, is an international BTS fan club that number in the tens of millions. They play a vital voluntary role in every BTS song's meteoric rise to success. Not that their songs need much babysitting, the BTS Army just loves to act as an international machine that works tirelessly to take their Korean idols to the very top of musical triumph through any support they can offer. This relationship the BTS Army has with BTS sees that every member of the Army dedicates time to share, buy, play, and like any song that the band releases.
Number 8: Gangnam Style by Psy with 21 million likes
The Gangnam Style global dance craze has got to be the last song that has truly taken the world by storm in the past decade. All 4 corners of the globe were dancing Psy's Gangnam style in 2012 and have since then garnered a total of 21.87 million YouTube likes and counting.
The music video was directed by Cho Soo-Hyun and as Psy says, is a music video that satires people from the Gangnam District of Seoul. People of this Gangnam District live a showy, high-status lifestyle and are known to indulge in all the high-end luxuries like expensive clothes, flashy cars, exquisite food, and other privileges.
Gangnam Style by Psy has had some notable YouTube records like most viewed video from 2012 to 2017, and the quickest to reach 1 billion YouTube views, hitting the 1 billion view mark in less than a year from its upload on YouTube.
Gangnam Style is also the 19th most disliked video on YouTube with 2.7 million dislikes.
Number 9: Alone by Marshmello with 20 million likes
The music video to Marshmello's Single, Alone currently has 20.78 million YouTube likes as of June of 2021. Released July 2 of 2016, the music video tells a loveable story of a bullied Marshmello who unexpectedly gets the respect and adoration of his whole high school when a caring classmate secretly records and shares a video of Marshmello making music. Everyone in Marshmello's school makes a mask to look like him and Marshmello whips out his turntable and everyone parties till sunset.
Number 10: How You Like That by Black Pink with 20 million likes
How You like that is a close 10th in this list behind Marshmello with 20.63 million YouTube likes since being released on June 26, 2020.
| Just so you know:How to Add Music to YouTube Videos
The Korean Invasion is Real!
Who thought that 5 out of the 10 most liked videos on YouTube are K-pop music videos? The Korean Invasion has come and conquered the music and YouTube scene and does not look to slow down or go anywhere anytime soon!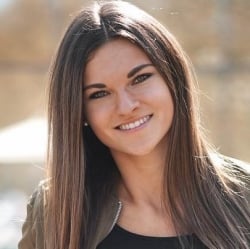 Latest posts by Anne Haynes
(see all)