Do you want to leave an excellent first impression on your YouTube channel? Are you obsessed with building recognizable media accounts that all blend into a single brand? In that case, you'll need all the visual assets you can get, especially an excellent banner for your YouTube channel. In this article, we'll talk about the importance of this cover, how you can use it to build a brand and how to make a YouTube banner for your channel.
And when you're finished, take a look at our other YouTube guides:
What Are YouTube Banners?
A YouTube banner or channel art is an image located in the top part of your channel and greets people when they visit it. Just like video thumbnails present a preview of your content, banners give a preview of your channel. Before you start worrying about creating this art, you should know that there are thousands of youtube banner templates online you can use and adjust to your wishes and brand esthetic. Now, let's see why this image is so important.
Why Do YouTube Banners Matter For Your YouTube Channel Page?
Why should you spend the time to create a banner design from scratch? What will it bring to your business? First of all, you don't have to be a professional photo editor or designer to craft eye-catching banner art because you can use a free banner maker. Secondly, all popular YouTubers have alluring banner images that make their brands even better, more reliable and show how much these creators have worked on every single detail of their channels.
One of the main reasons you should create a gorgeous, alluring banner design is because it represents your brand. When viewers first visit your channel, they'll be greeted by the banner, and if it's a good one, they'll immediately know whether you're focused on travel, beauty, gaming, etc. Therefore, the design should be on-brand and should fit your aesthetic. Overall, it's a part of your business marketing campaign, and it is an excellent example that even the tiniest details matter.
How To Make A Banner For YouTube To Build Your Brand?
Banners are not only necessary because they're the first thing people will see on your channel page, but also because they are one of the best ways to show off your creativity. A stunning design can capture and stimulate viewers to scroll down through your channel and view more of your content. The banner selection and banner ideas online are so diverse that you'll quickly find something to get your creative juices flowing and represent your brand in the best possible way.
These banners are also helpful because you can use them to announce your posting times, news, live streams, product releases, events, meet and greets, and much more. For example, if you're planning on hosting a giveaway, your channel art is one of the best places to announce it. 
Do you need to hire professional designers for your channel banner, or can you create one yourself? As we previously discussed, numerous sites and apps can help you create a banner using fun design assets and plan the art to the tiniest detail. Below, we'll list the design elements your cover art should include and a few meaningful banner design tips to follow.
1. Learn About Banner Size 
Banner Dimensions
According to YouTube's requirements, the minimum size is 2038 x 1152 pixels, while the preferred banner image size is 2560 x 1440 pixels. Know how to make a youtube banner on iphone, the minimum safe area is 1546 x 423 pixels. This is the middle section of the banner that users will always see, regardless of the type of device they use. If you're looking to grow your YouTube channel, you should know that a large portion of your views will be from mobile devices; therefore, you should focus on adding all the vital info to the safe space of the banner.
Aspect Ratio
The aspect ratio of your banner is also essential, and it should be 16:9. Again, there are numerous free programs and apps you can use to adjust the ratio and stick to the preferred size and format.
Format
The acceptable file formats for a banner on YouTube are PNG, JPEG, BMP, and GIF. The file size has to be under 2MB, and it should also follow the requirements we previously mentioned. If your file is bigger or saved under a different format, you won't be able to upload it to your channel.
2. Find A Great Banner Background
Now that you know all about dimensions, you should learn where to find an excellent banner background image. You can find stunning stock images on sites like Unsplash, Pexels, Pixabay that have thousands of royalty-free pictures. Additionally, these sites also offer premium plans. The easiest way is to think of words that best describe your brand and type them in the site's search bar.
The background color should be on-theme with your brand, logo, etc. You can create custom color palettes and color schemes while creating the logo and use the same ones for your brand's remaining imagery.
Text
Do you have to add text to your banner? Well, most creators do because they want to include the name of their channel, social media handles, and other important announcements. However, you can also use a banner without text, especially with powerful graphics and an excellent picture.
Graphics
Graphics are another critical part of your art because they can either make or break the deal. Most programs offer you to choose from their graphic elements library and add GIFs, images, etc.
3. Choose A Design Program To Use
There are so many programs you can find online to help you create a banner in minutes. One of the most commonly used is Adobe Photoshop; however, beginners prefer programs like Canva or PicMonkey that offer beautiful design assets and allow you to create a custom size banner.
4. Test Your Banner
As we already discussed in the previous paragraphs, this social media platform gives precise banner requirements you should follow because if you don't stick to the exact size, mobile device users or desktop users might not see the entire image.
How a user will see the banner depends on the device they use. If they visit your channel on a TV, they'll see the entire picture, and mobile users will only see the middle part. This middle section is called a safe space because users of TVs, tablets, mobile devices, and laptops will still see the middle section no matter how YouTube crops the picture. That's why you should stick to the recommended custom dimensions and optimize the picture for different devices. Before you release the banner, ensure to test it for all types of users.
5. Think About Your Marketing Strategy
Is your goal to get more subscribers or encourage your viewers to visit your other social media accounts? Think about the purpose of your marketing strategy, and implement it in your banner.
Conclusion
Powerful banner artwork is such an essential part of your channel's esthetic. Aside from introducing people to your brand, it will help them get a sneak peek of your creativity, help you connect with your audience, announce important events, use it to promote your other platforms, and stimulate viewers to see what your channel has to offer. When creating your YouTube banner, it's crucial that you stick to the correct dimensions, think of the safe area, and test it on all types of devices.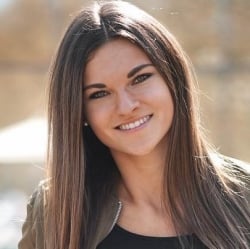 Latest posts by Anne Haynes
(see all)