A YouTube intro is the first several seconds of a YouTube video that presents the title of your video, channel or show through graphics, music, shenanigans, and whatever spectacle that is approving to your channel's concept. This YouTube intro is how first-time viewers immediately tell what your YouTube Channel is all about and also gives your regular subscribers a sense of excitement and anticipation whenever they play one of your YouTube videos. Learning how to make an intro correctly will work toward making your videos more watchable and notable to viewers. Important elements like what and how much graphics to use, music, run time, animation, and branding should all align towards a single, solid idea to making an intro video for YoutTube as effective and engaging as possible.
Making Intro for YouTube: Essentials You Must Master
A good intro acts as a hook and a call to action that lure in and entice viewers to stay and watch your videos all the way through. The knowledge of how to make a beginning for a YouTube video may just be as important as making a YouTube video itself. Learn and master these YouTube intro essentials and achieve more professional-looking YouTube intros for your videos.
Intro Length or Run Time
As mentioned before, a YouTube intro is the first several seconds of your video. Intros should be brief and should have a run time no longer than 10 seconds. The sweet spot of 5-7 seconds should be enough time to show everything you need in an intro without running the risk of losing your viewers' interest.
Production Value/ Quality
Making a good intro for youtube with seamless graphics, good music, and cohesive branding gets your video off the right way with your viewers. Good video production value and quality entice viewers to stay and watch because they have just gotten a taste of what value they will see in the video to come.
Branding
Consistency is key when building your branding. You want to always expose viewers to the same fonts, colors, images, channel name, music, or taglines for them to develop that familiarity with your channel and videos. The more familiar they are with your brand, the more they think they know you and will feel that connection that tells them to subscribe and come back to watch more of your video content.
Graphics
Graphics are any image or text edited into the video. These include your title card, additional animation, or pictures you might want to sew together for a concise idea. Consider graphics to have one look and feel that is consistent with your branding as a channel. This makes for a more memorable viewer experience and helps with people coming back to watch your other future or past content.
Music
Most people will advise you to pick the catchiest signature jingle or the liveliest background music, but choosing the music best for your YouTube intro is more than that. Lively and catchy does work, but picking the music that you feel imbibes the essence of your channel works better. If you feel a catchy song represents you best, then go for it. But if a more serious track feels right, then don't hesitate just because it isn't the conventional catchy song. The most appropriate music will sound right and more faithful viewers will relate to your music choice. Just remember to add music that is free to use if you don't plan to pay music royalties.
| Just so you know:
Types of YouTube Intros You Could Do
The biggest YouTube channels employ a variety of YouTube intro types depending on what suits them best as a channel. Do not be afraid to get creative and mix, match, and combine these intro types to something that best represents your YouTube channel. Here is a general list of what kind of video intros you can use:
Tagline Intro
It is the easiest among the video intros you can do. The Tagline intro or catchphrase is just saying your signature tagline at every beginning of your video. This works the best if your channel is a personal vlog channel where you are your channel's host and vlogger. Make your signature tagline unique that your viewers identify the tagline to your channel only. This connection will turn your viewers into fans and subscribers.
Title Card Intro
The Title Card YouTube intro is a static card that plays for 5-7 seconds over some music and has the title of the episode and whatever other text you think is relevant to your episode. Just remember to keep the title card brief and don't cram it with all the info
viewers can't read in 5 to 7 seconds.
Typographic Intro
Typographic YouTube intros are usually animated text graphics over your signature music that displays your show's title or whatever you deem relevant for an intro. These play for a shorter run time of only 3 seconds at most and are very easy to create.
Animated Intro
The Animated intro is the ideal intro video type all channels ideally want. Animated intros are immediately attractive, dynamic and promise viewers things that are as good as the intro. If you have some background in animation or can allot a budget for it, then have an animated YouTube intro.
Tips for making a YouTube intro
1. Start Simple – Prioritize having a simple YouTube intro over obsessing over what kind of approach you will have with your intro. As long as your intro gets the job done of introducing your videos to viewers, consider your job done. Just don't forget to gradually improve your intros for your video content as you grow your YouTube following and revenue.
2. Best app for making intro for youtube – If you are new to the intro-making game, it is useful to use one of the many intro maker apps you can find online. Design Wizard, for example, has a lot of video intro templates that you can choose from that will go well with your video content style.
3. Short and Sweet – Whatever YouTube intro style you use, always make it short and sweet. Remember that people's attention on social media is very short and if you do not hook their attention with your YouTube intro, there is a chance that you lose them, and they skip your video altogether.
4. Come Original – Offer something that viewers can only see in your intros and your intros alone. This original approach will pay dividends in terms of giving your video content the recall that lets viewers come back to your YouTube channel for more.
5. Keep it Fresh – Retain your catchphrases and taglines for recall, but keep your visuals fresh to make things interesting for your viewers. Mix things up and edit a new visual every 15 episodes or so. Just remember to take note of what gets received well and evolve towards that direction.
Have Fun
Learn and consider all these types of intros, essentials, and tips and try combining these with what suits your taste and what you find special. It is your channel and you can do anything you please, after all. Just remember what viewers appreciate and strike a balance between what you like and what viewers appreciate. Having fun will reflect in your videos and viewers will always find this endearing and worth subscribing to.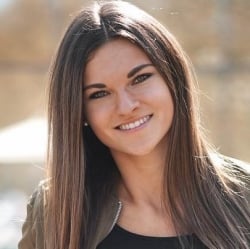 Latest posts by Anne Haynes
(see all)