With over 2 billion active users and 400 million hours of video content posted every day, YouTube is a rare phenomenon. In addition, this platform is the biggest music video service globally and has been a part of our everyday lives for almost 20 years now. Do you know anything about its history, the YouTube founders, and who owns the company? The platform has a fascinating story of three enthusiastic PayPal employees who had an idea that they successfully turned into a very lucrative video-sharing service worth over $500 billion today. 
And when you're finished, take a look at our other YouTube guides:
Who Founded YouTube?
Have you ever wondered how the biggest video-sharing platform started and who are the YouTube founders? Ever since its humble beginnings in 2004, YouTube has been one of the most brilliant ideas that came to mind to a PayPal employee. Chad Hurley didn't know he was creating history when he realized that the world was missing a platform where internet users would post individual videos and share them with other people.
At that point, Hurley dedicated his time to creating an online network for uploading music videos and other types of online videos. He joined forces together with two other PayPal employees, Jawed Karim and Steve Chen. The three worked hard and released YouTube in 2005, which is now a top-earning Silicon Valley idea and one of the best social media platforms globally.
Their initial try wasn't as successful because they turned the site into a video-sharing dating platform. When the three founders realized the idea wasn't lucrative, they transformed it into a free site where users could share professional or amateur videos with their acquaintances.
They shared the first video on the platform in April 2005 and released the beta version of the site the following month. Of course, the old, classic version has changed a lot since then, both the appearance and the features.
Although Hurley was the first YouTube CEO, several people took over that role throughout the years. The current CEO is Susan Wojcicki.
What Was The Purpose Of YouTube?
After realizing that filming a video and sharing it online is challenging for the average internet user, Chad was determined to create a platform where people could share video clips for free. The initial purpose was for users to share these video files with their closest circle of friends and family, but things took a different turn. Each video started attracting a broader audience, and the next thing you know, the world got its first viral video.
Today, the platform is still meant for everyone who wants to share all types of content for free and everyone who enjoys watching videos. One of the most interesting facts is that the average profile of YouTube users was mainly made of male teenagers during the first year of the platform's existence. However, that changed quickly, and the network's audience became more and more diverse as time went by.
YouTube's first advertising partner was no other than the major sportswear brand Nike. This was a spontaneous collaboration that revealed the monetizing potential the platform has. The video shows Ronaldinho getting a pair of Golden Boots, and it's the first YouTube video to reach 1 million views. This event happened in October 2005, which is very early on and shows that YouTube was a powerful tool for advertising customers right from the start.
Today, YouTube is one of the best advertising platforms for content providers. Millions of creators partner with the platform to set up an advertising campaign and monetize their content. Although ranking high and earning from the platform isn't as easy as it sounds, there is no doubt that YouTube and its users value high-quality content. If you're looking to start your YouTube channel, you have to focus on creating relevant, engaging videos that are SEO optimized. This means researching relevant keywords and including them in the video title, video description, and video details.
How Was YouTube Created?
After seeing how hard it is to share video content on the Internet, the three founders started working hard on finding a solution. Shortly after, YouTube was created, and the trio registered the domain, logo, and trademark on February 14, 2005.
In September, the same year, the company started getting its first significant investments. Sequoia Capital invested $3.5 million, thanks to Roelof Botha who was a partner in Sequoia and worked together with the three founders.
In April 2006, Artis Capital Management and Sequoia invested $8 million in the company. YouTube finished the Series B funding round with an investment of $12 million. Later that year, Google purchased YouTube for $1.65 billion. After a long struggle to make Google Videos work, the giant decided to quit the idea and buy YouTube. The video platform's employees started working in their new headquarters in San Bruno on the same day of the acquisition. Ever since Google became the YouTube owner, the platform has grown beyond expectations.
Major Milestones In The Company's History
Now that you know more about the founders and purpose of YouTube, it's time to read all about the platform's important milestones. Considering that this service has been on the market for almost 20 years, it has undergone numerous changes.
March 2006: YouTube introduced the 10-minute video limit for all uploads.
October 2006: Google purchased the video streaming platform for a whopping $1.65 billion. The word is that the three founders scored $400 million each from the deal. At that time the service had only 65 employees and being sold for such a high price only speaks to the level of success it had reached during a short amount of time.
May 2007: YouTube introduces its YouTube Partners program that allows creators to earn money from their videos. This decision transforms the network from an entertainment platform to a lucrative channel people can use for business.
June 2007: the platform released its mobile app. Since then, the application has gone through many changes, and now there are numerous advanced app settings you can use to improve your experience.
June 2008: YouTube reached a $200 million annual revenue thanks to the significant progress in advertising sales.
October 2010: Salar Kamangar replaces Steve Hurley as the new YouTube CEO. Kamangar, a Google employee, was responsible for significant YouTube decisions for two years before becoming a Chief Operating Officer.
October 2011: the platform decides to promote its original channels with an investment of $100 million. YouTube started collaborating with major stars and celebrities for this project. Unfortunately, this causes dissatisfaction among creators.
November 2011: the network releases its analytics tool that helps its creators track their video views, subscribers, likes, and overall performance of their video channels.
2012: YouTube adjusted its algorithm for recommended videos and based it on a user's watch time on the platform and on a specific video.
March 2013: the platform scored a huge milestone of 1 billion monthly users.
2014: YouTube reached 4 billion video views per day. This is the same year when Susan Wojcicki took over the spot as the new CEO of the company. Wojcicki is still the CEO and is one of the most brilliant minds of online advertising of all time. She was a leading Google employee before working on YouTube, and one of her most successful products is Google AdSense, which is something almost everyone has heard of.
November 2015: the platform announces YouTube Red, which is now known as YouTube Premium. It delivers the ability for users to watch videos without being interrupted by ads, to watch videos offline, listen to videos in the background, etc.
2015: the network launched a new feature- the 360-degree video. Now, its users could experience all the platform had to offer via a much more interesting and different view.
April 2017: the YouTube algorithm of videos goes through significant changes. This leads to lower potential revenue for creators, which causes a massive stirrup online. The site changed the auto-suggesting new users feature and started ranking videos according to the time users spent watching them, not according to the number of views.
May 2017: the platform discontinued video annotations.
2018: YouTube releases a new service called YouTube Music.
2019: YouTube introduces a new hate speech policy that removes thousands of videos that include Nazi elements and racial slurs. However, things got a bit complicated when the platform's algorithm accidentally removed videos that did not contain any hateful language.
October 2019: the platform released its Two Ads feature that shows two ads in a single video. This improvement is supposed to help creators earn more.
Conclusion
How did YouTube become the biggest video-sharing platform in the world? It all started with a simple idea of three creative minds who were just looking to make our lives better. Chad, Jawed, and Steve noticed that the online world was missing a platform where people could upload videos with ease, so they created YouTube. Ever since its beginnings in 2004, it transformed into a significant advertising force and a source of income for millions of creators.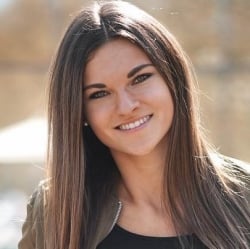 Latest posts by Anne Haynes (see all)