YouTube and Instagram are some of the best platforms for sharing content and brands, but is there a way to combine the two of them for the best results?
If you are wondering how to share a YouTube video on an Instagram story, we have all the answers and techniques ready for you. It might not be the easiest process, but it can be done in a few clicks.
Posting regularly on both platforms can help you increase your online presence and grow your YouTube account in an organic way. This is why you need to stay tuned until the end for all the tips and tricks.
Let's get started!
Can You Post a YouTube Video to Instagram?
The simple answer to this question is yes, you can share videos on Instagram from YouTube. However, depending on the content, device, and place of posting on Instagram there are various ways to do this.
Most of the time, YouTube will not allow you to download videos that are not yours, and you can't share them to Instagram directly. So, you have to follow the guidelines provided below and choose the best one for you.
Keep in mind that privacy policy applies to all platforms, and it would be best to have permission from the original author on YouTube, or at least mention them in your Instagram post. 
The best way to promote your ideas and content is to use your own YouTube videos and share them on Instagram stories. This will help you get more audience and gain more followers in return.
Why Post a YouTube Video on Instagram?
Since there is no option to directly share the entire video from YouTube to Instagram, you might be wondering if all the trouble is actually worth it? The answer is yes because you should definitely learn how to use videos from YouTube on various platforms and while creating content.
This can help you make engaging posts on Instagram, clickable links and so much more. Your online presence and influence will grow over time as more people are attracted to your work.

When you include all social networks and create a brand that you promote on every account, it's easier to reach your target audience and grow your fan base. As you know, followers are crucial on all platforms if you want to make an income, especially on YouTube where you can build an entire career. 
Here are a few reasons why you should consider this:
Drive traffic
Using Instagram to tease your followers with some snippets from your new YouTube video can go a long way. This is a great way to utilize one social media platform to drive traffic to another one. Traffic always means increased income from various sources, so it's the most important thing for your online business.
Create a trip down memory lane
Content creators are always looking for the best ideas and love to share their progress over the years. You can use Instagram to create a mashup of your previous videos and keep your followers entertained.
Educate your followers
Videos from YouTube might not be allowed to be shared by anyone, but as long as you are using them for educational purposes, you are good to go. This can be an amazing opportunity to share your passion with the audience and educate them on some purpose you are concerned about while avoiding copyright issues.
Now that we are properly motivated to share videos on Instagram, we can move on to techniques that will allow us to do just that. Depending on the device you are using and whether the video from YouTube is yours or not, you might have to use different techniques to achieve this.
On desktop
If you don't have the video on your desktop already, you need to download it first. This is easily done by using websites and third-party apps, just make sure you are not violating any copyright laws if the video is not yours.
Here is how you can share a YouTube video on Instagram on your desktop:
Open YouTube
In your favorite browser and find the video you want to post. It's best to use your own videos but even other authors are a viable option if you mention them later;
Download the video
Try using one of the most popular apps or websites like 4K Video Downloader where all you have to do is copy the video URL and paste it. Once it's downloaded, you can adjust it more;
Edit the video
Instagram is quite demanding when it comes to video format and length, so you have to use apps like FilmoraGo to optimize the YouTube video before posting;
Post video to Instagram
Log into your Instagram and create a new post. Add a caption, hashtags, and location tagging to boost your post and add the downloaded video.
Keep in mind that if the video is not yours, you should always mention the source or the author to avoid legal problems. Otherwise, enjoy the extra engagement on your post.
On a mobile device
If you are using your mobile phone, whether it's an Android or iPhone, you will need to download the video again if you don't have it in the phone's gallery. 
Here is what you need to do to share a YouTube video on Instagram on your mobile phone:
Download the video
Go to the YouTube app and find the video you would like to share. Click on the share button and find the "copy link" option. Use a video downloading app like Video Get and copy the video URL there to download it.
Crop the video
Once the video file is in your gallery, you should optimize it for Instagram. You can use video editing apps or native editing tools on your phone to optimize content. If you are sharing the video in a post, we suggest cropping it into a square.
Post on Instagram
When the video is ready to go, open the Instagram app and create a new post there. Add all the hashtags, video descriptions, and tags and upload the video from your phone.
Always make sure to promote your own YouTube videos as much as possible. This will allow you to grow the number of followers as people will find you on Instagram and other social platforms.
Pro tip: You can always use reposting tools like AiShedul if you want to post your videos directly from YouTube. This way you don't have to download the content to your phone and you can do all the editing in the app.
Make sure that apps used are from reliable sources and have great reviews to ensure the privacy of your data and online security.
If you don't want to save a video but still want to share it with your followers on Instagram, don't worry, there is a way you can do this. In addition, if you have over 10,000 followers on Instagram you are considered an Influencer and you can add a "Swipe Up" option to your stories.
This will take your followers directly to the link provided. But, even if you don't have that many followers, you can make clickable links and calls for actions in your video posts.
Here is how to share a YouTube video on an Instagram story as a link:
Create a Thumbnail – Your video link will be added to a thumbnail you create, so make sure it's amazing, engaging, and captures the attention of visitors. This will make it more likely that your followers are going to visit the link provided and see your YouTube post.
Always use call-to-action text, stickers, and additional features to make the post more appealing. It will help you gain more followers who enjoy your creativity.
Post to Instagram – Once you have your thumbnail ready to go, you can open the Instagram app and click on the "+" to create a new story. Upload the thumbnail and find the chain icon at the top where you can paste the URL link from YouTube. Click on done and select the audience you want to see your story as usual.
Adding links is sometimes easier than downloading videos, but there are advantages to both techniques. You can always experiment with your video content on Instagram and YouTube as long as you follow the guidelines and copyright laws.
Final Thoughts
YouTube has over 2 billion active users and it's one of the best platforms in the world to promote your content and business ideas. But, this doesn't mean you should limit your online presence to only one social network.
One of the best social media strategies is to use all the available sources to increase your influence on a wider audience. This means using platforms like Instagram and others to share your YouTube videos in posts or stories.
It might not be the most straightforward process available, but with our simple steps and guidelines, you will make an amazing post each time and on all devices, ensuring your YouTube growth and increased income.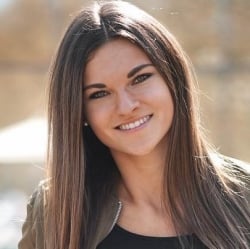 Latest posts by Anne Haynes (see all)