YouTube is one of those incredible video platforms that allow people to make and share videos for free. This is a fantastic opportunity to grow your YouTube channel and advertise your social networks and business.
It all starts with uploading a video to the YouTube platform, and if you are just getting started and want to know how it is done, stick around to the end to discover all the tips and tricks on how to upload YouTube videos.
Getting Started with YouTube
Before you can post a video to YouTube, you must first register an account. If you have not already, you should join up for YouTube, which is linked to a Google account.
Once you have signed in to your YouTube account, you may explore the many tools available to you for uploading and video edit. YouTube has mastered the upload procedure, and you can now publish videos from either your desktop or mobile device. All you need is a wi-fi or stable internet connection, some time, and great content.
How to Upload Video to YouTube
You are excited to share your unique and creative video with the rest of the world after you have spent some time and work crafting it. Fortunately, the procedure of submitting videos to YouTube is simple and completely free.
Creators may now post videos from their smart devices with ease using the mobile app.
You may use a few tactics to get more viewers and maybe subscribers, and therefore build your YouTube channel, and we will go through them all today.
1. Log in to your YouTube channel
Make sure you are signed in to the channel from which you want to submit the video file. If this is your first time uploading, go slowly and carefully through all of the processes until you get used to sharing videos.
2. Select the upload button
This button, which resembles a camera, is positioned in the upper right corner. This button should be used to upload an existing video or a live broadcast from your camera.
3. Write all the requested information
After you have chosen the video to upload to YouTube, you will need to fill out some extra information such as the title, description, privacy settings, and tags.
4. Click "Upload"
Once you have completed all of the preceding procedures, your video is ready to be posted. All you have to do is click the "Upload" button and see the video upload to the YouTube platform.
| Just so you know: How to Delete Own YouTube Video
Important Things When Uploading a Video to YouTube
Although submitting videos to YouTube is straightforward and takes only a few minutes, there are a few things to keep in mind. Because not all videos published on YouTube are successful, it implies that there are methods for making them more visible and attracting more followers.
Aside from the obvious recommendation to create original and high-quality content, prominent authors understand the significance of catchy titles, tags, and descriptions.
Privacy Video Settings
Before you go through all of the suggestions for video titles and other tactics, you should first select who may watch your video and alter the privacy settings, including the potential age restriction.
You have several degrees of privacy to select from:
Public
All YouTube and other social network members have access to public videos. This option is ideal if you want to share your videos with the entire world and maybe boost your YouTube channel and business.
Private
Private videos are only accessible to the creator and those designated by the author. These videos cannot be accessed on the internet and are not shown in your YouTube channel video playlists.
Unlisted
On YouTube, unlisted videos are somewhat more visible than private videos. Although the unlisted video is not in your channel's video list, anybody with the URL may access it. This might be an excellent marketing strategy for businesses with specific clientele.
Scheduled
Scheduled videos are not visible to viewers until the creator chooses to make them public. This is an excellent tool for creating time-sensitive marketing videos and promotions. The video has been uploaded, but it cannot be seen before the scheduled time.
Title of the YouTube Video
Many people will agree that the title is one of the most crucial aspects of the video. Experienced content creators utilize the term to gain more viewers and promote their work.
When you upload a video to YouTube, there will be a spot for the title. Because this is regarded as very critical information that should persuade viewers to watch videos, take their time, and come up with something unique.
There are some techniques for making the title intriguing without becoming clickbait. Keep it short and to the point, and choose keywords that best represent the topic.
Description and Tags of YouTube Videos
Following the high-quality material and appealing title, the next step in the uploading procedure is to select the appropriate tags and description. Both are essential for advertising your video and making it more visible to users looking for related content.
The description is provided to offer a clear explanation of the video and what the viewer may see. This is a terrific opportunity to be inventive and captivate the reader enough to keep them watching until the end.
Tags, on the other hand, are critical for search results and SEO. When you include relevant keywords to your material, it makes it simpler for people to locate your videos and maybe become your follower.
Conclusion
YouTube is a social network that functions similarly to any other platform, with creators trying to market their content and users hoping to be amused and educated.
With this in mind, there is a place on YouTube for everyone, no matter what your niche is. You may quickly create and post your first video and maybe grow your channel over time.
To make it work, you will need high-quality material, excellent equipment, and an unwavering commitment. But, in the end, it all begins with that first video, so take advantage of this free chance on YouTube, take out your video camera and begin recording right away.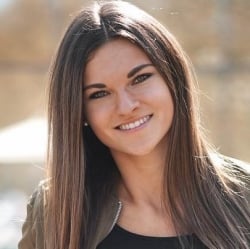 Latest posts by Anne Haynes
(see all)