Monetization on YouTube
YouTube is the second biggest social media platform on the internet right now, just next to Facebook. Currently, there are about 2 billion active users around the world every month, according to statistics. Needless to say, being one of the YouTube stars is almost tantamount to being a Hollywood star.
We all know that with fame comes fortune. So, indeed, even on this free-to-use media platform, anyone can become famous worldwide and earn some money as well.
However, YouTube won't pay you for simply uploading videos on their platform. You have to have tons of views to prove that you are an up-and-coming video creator before the platform recognizes your potential to make money on YouTube.
It is encouraging though to know that you don't need a million subscribers to start earning. In fact, you only need 1,000 subscribers. Try inviting all the contacts on your Facebook and then some to accomplish this one. It shouldn't be that hard just to kick-start your journey.
The next criterion you will need to fulfill is to get your videos 4,000 watch hours or play time in the span of 12 months. There are 2 billion people who can click on your videos; you'll probably get enough views for this to happen in a year. Once you've achieved this, YouTube will notify you are eligible to join the YouTube Partners Program and that your videos are ready to be monetized.
Potential Earnings
Monetizing your videos means that brands can show their advertisements before, during, or after your videos in exchange for some cash. It will not rake in big bucks immediately, but it's a start. You'll have to set up your account to start the income flowing.
Once YouTube has recognized your potential, you'll need to change your account settings to "Enable Monetization." After that, you will have to create and link a Google AdSense account and a PayPal account where you'll receive the revenue from advertisements played on your videos. All these accounts setup is for free, so you don't have to worry about paying any fees.
You will only have to think about how to earn money on YouTube and what will help you earn. Your potential earnings can be defined by the following factors that brands are on the lookout for:
Number of subscribers – The bigger your number of followers is, the bigger the audience for ads. Read: 11 Ways to Get More YouTube Subscribers
Video views – You don't earn money with watch time. However, the number of views can indicate how many chances an ad can be seen or clicked.
Viewer engagement – If your audience watches your videos from start to finish, it means that they are interested in your content. They will be waiting for your next video upload. This means more potential views in the future.
Your chosen niche – Choosing a topic that a lot of people are interested in ensures that you'll have more audience.
Other revenues – YouTubers don't earn only through ads. They also generate income from other revenue channels like brand endorsements, merchandise sales, etc. That's because they have reached a status that has made them marketable.
How to Earn Money on YouTube
The main passive YouTube income source is generated from advertisements, crowdfunding, selling merchandise and affiliate links. To get this going, you'll need to craft a channel that produces streamlined content. Start by uploading videos to your channel.
Here are basic tips, so you can start earning on YouTube:
1. Create video compilations
Make this kind of video if you are camera-shy or not yet ready to commit to a niche.
Research keywords commonly used in web searches. These can be the topic of your vids.
Find images or footage related to your topic.
Edit them to make a cohesive video.
Do a voiceover, and you are ready to upload.
Optimize video for SEO by creating tags.
You can even have someone do all these things for you. It doesn't cost much to hire freelancers on Fiverr. Outsourcing frees up your time as well to do other income-generating projects.
2. Do your own videos
If you are passionate about something and you want an outlet, you can certainly record your own videos. Some pointers for a successful project:
Search for topics that have a big niche.
Use English to guarantee that your videos can be understood by most of the world's population.
Make sure the videos are family-friendly. No swearing or sensitive content.
Don't make it too long. People are more likely to click and watch videos that are less than eight minutes.
Be consistent in uploading content.
3. Get subscribers
The number of your subscribers is a sign of your channel's growth. You should always strive to get new subs to keep progress constant. This will attract more advertisers to your channel.
You can do this naturally by optimizing your videos so they show up on searches. It might take some time when relying on YouTube's ever-changing algorithms, but it works.
4. Advertising revenue
Advertising is just one avenue of income. There are other ways you can earn through YouTube, but these will only be profitable once you have established yourself on the platform with a huge number of subscribers.
Here's a list of the various money-making gigs you can do on YouTube:
Doing live streams
Your audience would love to interact with their favorite star. Having live streams gives them such fulfillment. You also get the chance to receive tips from them during these shows.
YouTube's Super Chat and Super Stickers
When you do live streams, your subscribers can purchase channel memberships that will give them specialized emojis and badges that will make them more visible in chat interactions. They also get exclusive live chats with you for a certain price. So being personable on YouTube really goes a long way.
Do crowdfunding
Raise money for your next project by asking people for funds over the internet. Create a video discussing this project you're planning. If they're interested, they may support your venture. There are platforms on which you can do this:
Kickstarter
Best for one-time projects
You will be screened before you are allowed to start crowdfunding.
If you don't hit your goal amount within 60 days, you don't get paid.
You are required to provide your backers with a physical reward once your campaign pushes through.
The platform gets 5% of the total amount.
There's also a 3% payment processing fee (PPF).
Indiegogo
Best for ongoing campaigns
There is no screening process to start a campaign.
You get to choose whether you want an all-or-nothing or to keep whatever amount is raised during the 60-day period.
The platform gets 5% as a fee.
There's also a 3% PPF.
Get fan funding
Your fans would love to provide monetary support for their idol so you can keep creating videos for them to watch. You just have to be transparent about what you use the money for. It also helps to provide them with exclusive deals to entice them to donate more. Here are some commonly used services to do this:
Buy me a Coffee
Free to join, no restrictions
Fans can avail themselves of monthly or yearly memberships.
Supporters can also give one-off payments or tips.
You get instant payouts.
Buy me a Coffee only takes a 5% commission.
They provide live chat support 24/7.
Patreon
Free to join
Fans can only avail of monthly memberships to support you.
You get paid monthly.
Patreon gets a 5-12% commission or $300/month for Premium.
There's also a 3% PPF.
Tipeee
No restrictions to join
Tippers can give you any amount. It can be one-time, whenever the content is put out, or monthly.
Paypal donations get wired instantly. Bank transfers are done weekly (and only in select countries in Europe).
Tipeee gets 8% commission, that's it.
Selling merchandise
Your supporters would love to wear your stuff to show the world how much they love you. Having an online store is the way to provide them with your merchandise. Here are some print-on-demand services that can help you with setting up your store, creating, selling, and shipping your stuff:
Shopify
You need to pay a monthly subscription to put up a store.
They help you every step of the way.
Shopify gets a commission and a small percentage of your sales.
Teespring
No monthly subscription is needed to open a store.
They have tutorials to help you set up.
Service fee is already included in the base cost of the products, no additional percentage cuts from your profits.
Juniper
Premium E-commerce site for influencers.
They have a team to do everything for you.
Needless to say, it's pricey.
Sell your services
Same as when you are putting out merch, you can also provide your fans with your services. Promote this in your videos and don't forget to include links for them to easily find you on whatever platform you choose. You can offer services on any of these sites:
Fiverr
For various services you offer.
Free to use for everyone.
Fiverr charges a 20% service fee for every job completed.
For video courses you can offer.
No fee to upload a class.
You get paid per minute watched of your classes.
Create sponsored content
These include brand endorsements, product reviews, and unboxing/hype videos. Brands are willing to pay YouTubers who have a big following to feature their product. Some pay a fixed price, like $300 per sponsored video. Some pay per view. It's not the same every time. Pricing varies, but as a general rule, the more subscribers and views you have, the bigger your earnings.
Become an affiliate marketer
When brands approach you to feature their products or services, they will provide you with affiliate links. Whenever people click on this and avail themselves of their services, you get a commission from the sales. Here are ways to seamlessly incorporate the links in your channel:
Put the link in the description section of your videos.
Create well-timed YouTube cards that appear in your videos. These cards are clickable so your audience can easily go to your affiliate brand's website.
Have a short section in your video discussing the benefits of availing the affiliate brand's product or service.
Make a call to action tagline to click the links in the description box to help support your channel.
These are just some of the more common ways YouTubers earn an income. Since the advent of the internet, everything is possible. You are only limited by your imagination.
FAQs
How many views do I need to start earning on YouTube?
You'll need 4,000 watch hours and 1,000 subscribers.
How much can you make on YouTube?
A thousand ad views can earn you around $18.
If your channel has 1 million subscribers, you can make about $60,000 annually.
From affiliate links, you can get $10,000 to $400,000 per year.
Who is the highest-paid YouTuber?
Do YouTubers get paid when viewers skip ads?
Sadly, you won't get paid when video ads are not watched until the end.
Ad clicks can get you paid.
How does YouTube send you money?
You get a monthly PayPal payout through your AdSense account.
When can you get your first payout?
You need to earn $100 before you can start getting paid for ads.
Final Note
Relying solely on ads won't get you much. You only receive 55% of ad revenue on YouTube. It is up to you if you are already satisfied with this. However, if you want to maximize profits, try to explore the other avenues.
YouTube offers a lot of earning opportunities for everyone. Tapping this great platform is a must if you want to start a business or career online. There are also numerous resources available that can help you on the journey to earning money on YouTube. So, why not start today?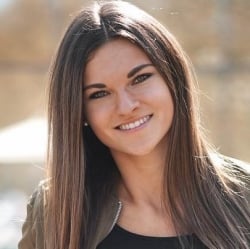 Latest posts by Anne Haynes (see all)