Anyone looking for great YouTube channel ideas intends to make a career out of being a YouTube content creator. Why not, right? Being a YouTuber is no longer a hobby these days but a powerhouse career that can not just earn you a basic living but get you fame and riches that you could never achieve by working a regular 9 to 5 job. Read on to learn why viewers love to view these types of YouTube videos, and start growing your YouTube channel today.
What Kind of Channel Will I Be?
It is important to ascertain what to make a YouTube channel about before you make YouTubing a career. Picking and sticking to one concept will help in molding your channel's identity. This does not just help your audience have an easier time intimately knowing you but also helps you develop a style that will drive viewers to become subscribers and potential followers to your channel. Remember that a channel that caters to a niche will have more success than one that tries to juggles multiple themes and niches at a time.
11 Best Youtube Channel Ideas
There are a lot of YouTube channel ideas for beginners. So much so that we could sit and talk about the topic for hours on end. But since we want the best start to your YouTube career, then you have to be a type of channel that you will love to host. You'll enjoy your time working the channel and will always have fresh content ideas.
Now for the meat of the matter, let's take a look at the 11 ideas for a youtube channel:
1. Gaming and Esports
This seemingly small niche has a very huge audience base among YouTube viewers. Since gaming and esports have made vast strides in becoming a more legitimate spectator event, more and more people go on YouTube to follow the latest about the goings-on in their favorite games. To be successful in this field, we recommend that you become a channel that focuses on only one popular game. Focus on injecting your take on things about your chosen game to separate yourself from other gaming channels. For example, if you choose Valorant as your game, you may want to have content that gives tips and tricks to do better with every agent according to your own gaming experience. Just remember to be an excellent player yourself and always be updated with what's new and your gaming videos will catch on with viewers.
2. Unboxing Videos
One of the more popular topics on the internet today are unboxing vids. Everyone shares an enthusiastic fascination for unboxing a product we have bought or have just received in the mail. We all love new stuff and the next best thing to unboxing something we bought for ourselves is watching someone else unbox some brand new goodies.  This is especially true on YouTube because unboxing videos garner millions and millions of views. You can do unboxing videos for tech and gadgets like phones and computer parts, clothing and fashion items like shoes and bags, car and motorcycle parts – the list goes on and on that anything you can unbox in from of a camera will find an appropriate audience on YouTube.
3. Sports and Workout Videos
Pick a sport that you have a passion for and you can share with your audience a plethora of sports content. Like a lot of fitness channels on YouTube, you can give tips and tricks on how to perform better; share your routines and winning mindset practices, or have videos that demonstrate how to properly execute effective moves and techniques. Much like gaming and esports, you might find more success if you focus on one kind of sport or workout. If you have a skill or passion for soccer, make a soccer-oriented channel. If CrossFit or weightlifting is your passion, then follow suit and focus on that thing you have a lot to share about.
4. Comedy and Humor
YouTube is such a great source of laughter and humor that we hit up YouTube for our daily dose of laughs. If making people laugh is your thing, then making a comedy channel could just be the thing for you. There are a lot of ways you can spread the laughs on YouTube; you can compile video fails of people because that's always a sure hit, or do prank videos because that is always fun as long as you do it right. If you enjoy being funny and you stay within your legal boundaries, do YouTube comedy videos.
Everyone loves the idea that there could be a shortcut for everything that we do. With how difficult and hectic modern life is, a hack here and there is more than welcome especially if they are as effective or even more effective than the long cut version of things. Life hacks are the types of videos that everyone watches and is a great idea for a YouTube channel if you don't mind compiling hacks that you have collected in your own life.
6. Educational Videos
YouTube is a great venue for learning and students of all ages rely on YouTube for extra education outside of school. If you dream of teaching but have only the internet as a classroom to teach in, then making an educational channel is for you. Remember to brush up on whatever it is you might want to teach to you remain factual and truly educational.
7. Movie Reviews
If you fancy yourself as an aficionado of the silver screen, then having a movie review channel on YouTube could just be your thing. Just make sure you always get to watch the latest movies so you remain relevant to movie buffs that you cater to.
8. Product Reviews
It has been proven that we all watch a product review video of things we buy before buying them especially if these things are a little more expensive than purchases at the grocery. We love hitting up reviews for phones and gadgets, shoes, cars, sports equipment, and the like. People check out review vids all the time and that is why making a product review channel is one of the best ideas to start a YouTube channel on. 
9. Music
If you have some musical talents that need to be shared with the world, start a music video channel. Everyone loves good music and a music channel and does not need a narrow target audience. Just make sure that you have real talent and are not in the illusion that you are the next best thing. Remember that if you are no good, no one can save you from the cruel comments that are coming your way. Also, practice all the time even if you are talented.
10. Beauty Products Reviews
Beauty products videos do so well on YouTube because they are very useful to people who are interested in buying these products they review. Reviews answer questions such as, "do these products do what they promise?" If you enjoy looking your best and helping your audience look their best, too, then give being a beauty product content creator a try.
11. Challenge Videos
Once you have established your YouTube channel, upload a challenge video now and then as bonus content. Who does not want to watch a video of you taking on something like a spicy ramen challenge, or a "try not to laugh" challenge? Your viewers will love these videos because of the natural curiosity they evoke when they wonder if you will be able to conquer the challenge or not. Failing in a challenge is still good content because, in challenge videos, any result is always entertaining.
Stick to the Theme
Whatever theme of content you choose to create, always remember to stick to being consistent with it, and with a lot of hard work and dedication, you will go a long way and maybe achieve that YouTube fame and fortune we all want.
How Rich and Famous Can I Get?
Everyone has heard of PewDiePie or Mr. Beast and the dudes from Dude Perfect. All these guys have a net worth of tens of millions of dollars. PewDiePie alone is said to be at a net worth of 40 million dollars. As for their fame, we can't think of people who are more popular than social media celebrities right now. The pandemic has thrust social media more into the limelight and YouTubers are the most popular among them, no doubt. Let's just say that the most famous YouTubers are simply known the world over.
Now that you know what heights of fame and fortune you can achieve, it is time to momentarily put your feet on the ground, buckle up, and start with the makings of your humble beginnings as a YouTuber. To actualize your YouTube fame and fortune will require you to simply choose a theme for your channel.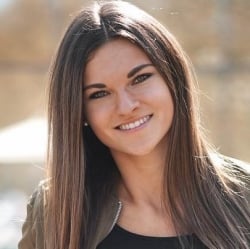 Latest posts by Anne Haynes
(see all)