YouTube is a powerful platform for sharing videos with the world. Millions of people use it every day to watch and share content.
There are many ways to grow a YouTube channel and subscriber list. You can use social media, paid advertising, or collaborations with other YouTubers.
Do you want to increase your YouTube subscribers without doing any extra work?.
Well, there is a way to do that! All you need to do is create an auto-subscribe link.
This article will show you how to create a YouTube auto-subscribe link. We will also discuss some of the benefits of using this type of link. Keep reading to learn more!
And when you're finished, take a look at our other YouTube guides:
Why You Should Use an Automatic YouTube subscribe Link URL
The auto-subscribe link is great for getting additional subscribers to your YouTube channel and increasing your popularity. You can link to channels from other YouTube creators and get a lot of subscribers this way. They are good for driving traffic to your website or products because when people see great content on your channel, they will click over to see what else you have. 
Increasing the number of subscribers on YouTube helps increase the popularity of your video, as more people are likely to view the video due to its wide reach. Your viewers are subscribed to receive more videos, which means that they will want to keep coming back.
Another great thing about having more subscribers is that the YouTube algorithm will place your video higher in search results. This means that more people will find it and watch it, therefore increasing your popularity even further.
The best thing about an auto-subscribe link is that it can be shared with many social media platforms, so you will gain a lot of exposure if you post it widely enough. Your target audience will see your video, click on the link and then go to YouTube, have a look at your channel, possibly subscribe and then tell their friends about it.
If you monetize your YouTube channel, then more subscribers imply more revenue. With an automatic YouTube subscribe link, you can be sure that your channel will grow steadily and make you more money.
How to Make a YouTube URL that Auto-Subscribes to Your Channel?
Now you know the benefits of your channel's auto subscribers YouTube link, let's show you how to create it in simple steps.
On Desktop
Follow these steps to create your auto subscribers YouTube link on a desktop computer.
Step 1
Launch your favorite web browser and log on to https://www.youtube.com. If you are already signed in, then jump to the next step. If not, now is the time to do so.
Step 2
Click on your profile icon on the top right of the screen to expand the menu.
Step 3
Navigate to your channel's main page by selecting "Your Channel" from the menu.
Step 4
In the address bar, highlight your channel URL. You can normally accomplish this by clicking the address bar of your web browser.
Step 5
Copy the URL to your clipboard. Ctrl+ C on a PC or Cmd+C on a Mac.
Step 6
Launch your favorite text editor and paste the copied URL. Again, Ctrl+V on a PC or Cmd+V on a Mac.
Step 7
Add ?sub_confirmation=1 to the URL without space.
Step 8
Now copy the entire URL above to your clipboard using the specific keys depending on your computer.
Step 9
This is the fun part. You'd want to head over to anywhere you can insert a "Website link" or "URL.
This could be your social media profiles, email signatures, or website HTML code. Paste the URL in the specified field, save changes, and you are good to go.
On Mobile
Follow these steps to create your auto subscribers youTube link on a smartphone or tablet.
Step 1
Find and launch the YouTube app from your smartphone or tablet.
Step 2
Click your profile photo from the top-right corner of your screen.
Step 3
Select "Your channel" from the menu.
Step 4
In the top-right corner, you'll find the three-dot menu. Click it. This prompts another menu.
Step 5
Click "Share" to reveal your device's sharing options.
Step 6
Select "Copy link" from the options. Depending on your android version, this could be "Copy link" or just "Copy." It will copy the link to your device's clipboard.
Step 7
Launch any text editor on your smartphone or tablet. Tap and hold the text area to prompt a menu. Select "Paste." This adds the copied URL to your text area.
Step 8
Add ?sub_confirmation=1 at the end of the link without space.
Step 9
Copy the entire URL to your clipboard.
Step 10
Go anywhere where you can put a "Website link" or "URL."
It might be your social network accounts, email lists, or the HTML code on your website. Paste the URL into the appropriate area, save the edits, and that's it—your subscribe link YouTube is ready for your blog posts and other content ideas!
How to Make Your Own YouTube Subscribe Button?
You already know YouTube is a great resource for learning new skills, from making hummus to building apps in node.js. The good news is you can make your own YouTube subscribe button free of charge without the need for any special software.
All you have to do is add an embed-able HTML code to your blog. What this code does is import Google's platform.js. JavaScript library to display your YouTube button and the current subscriber count on the fly.
Before saving changes, you'd want to replace "YOUR CHANNEL ID" with your YouTube channel URL.
Remember, there is a tool to help you tweak your subscribe button. You can log on to https://developers.google.com/youtube/youtube_subscribe_button to access this valuable tool.
Customizing your YouTube subscribe button is super-easy using Google's official tool. However, you'll still need access to the HTML of the page where you wish to put these buttons.
There are a few things to note about the YouTube Subscribe button. These include:
You may find the style of these buttons difficult to regulate, and they may wind up appearing awful on a smartphone or tablet.
Browser plugins and adblockers may prevent the button from displaying or working properly.
Additionally, accessibility concerns may arise as a result of these buttons.
Conclusion
The YouTube subscribe button may deliver a lot of potential to your channel. You can leverage it to increase views, which will lead to more subscribers. Your auto-subscribe button or link is not enough to increase your engagement levels or a broader audience.
You'd have to invest some time in producing compelling content for your subscribers.
That way, you can easily hold on to your current subscribers and acquire new active users as well.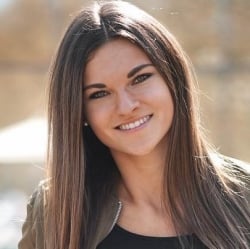 Latest posts by Anne Haynes
(see all)