YouTube is much more than just a music streaming network. It's a lucrative social media platform that can turn into a great business opportunity for people who create quality content. Aside from the regular programming and releasing videos on your channel, you should think about doing collaborations. With the YouTube collab ideas below, you can attract new subscribers, score more views, meet new people, make friendships and create engaging videos that will enrich your channel.
Before you learn more about potential ideas, we wanted to go in-depth about why collaborations are essential and the benefits you can earn.
Why Consider YouTube Collaborations?
Why are YouTube collaboration ideas smart, and can they be beneficial for your channel? These videos take time, dedication, and a lot of work. But, all that work can pay off if you choose the right collaborators and create quality content together. If you're still not convinced that you should start doing collabs on this platform, here are a few significant reasons to change your mind:
Brand New Audience
Doing a YouTube collab with another creator means that you'll expose your channel to a brand new audience. In other words, a large number of their subscribers will notice you, check out your channel, and decide to subscribe if they like what they see. So even if a single video collab becomes viral, you can expect thousands and thousands of subscribers and views. Even if the creator isn't in the same niche as you, the chances are a part of their subscribers will be interested in your content type.
More Innovative Content
Finding new video ideas that will engage the audience and help you create valuable content isn't as easy as it sounds. Thanks to various types of collabs you can diversify your content, learn from other creators and see if your subscribers will enjoy these types of videos. Posting the same themed video over and over again can be damaging to your engagement; thankfully, collabs are always innovative, fresh, and unique. Everyone has a different YouTube strategy, but when you work closely with someone, you can share tips, steal some of their tricks, and see what makes them great at what they do so you can improve as well.
More Views and Subscribers
When your collaboration partner posts the video on their channel, they're indirectly promoting yours. People will be intrigued to see what you have to offer, so they'll click on your channel and videos as well. Doing collabs can increase your visibility, and it's a free way to promote your content. That's why you should carefully choose who you film with and the topics of your conversations. There are cases when small creators collaborate with popular YouTubers and manage to score millions of views.
8 YouTube Collab Video Ideas That Rock
Q&A videos are all over social media and are one of the most entertaining collaboration video ideas you can do. Find a collab partner that you enjoy talking with and prepare a list of questions you'll respond to. Most content creators ask their subscribers and followers to ask the questions, while others decide to put together a list of popular questions they often get and want to talk about. For this idea, you can invite as many creators as you want; you don't have to stick to two people.
Another great thing about this question and response video idea is that you can cross-promote and use other social media platforms to get more YouTube subscribers and views. For example, you can use other networks such as Instagram and let your followers know they can send their questions to you and your collaborator. Then, once you gather the questions, announce that you'll be revealing the answers in a YouTube video on your channel, add a link so they can swipe up and watch it. It's a great way to bring a new audience to your channel and promote it outside YouTube.
Even if you're not a part of the YouTube community, you probably already know that many fun challenge videos go viral and become global sensations. If you have a great idea on your mind, start looking for potential YouTube creators to do it with you. It will benefit both of you and can pave your way to stardom. What's even better, you can gather a group of YouTubers and have your channel exposed to new audiences.
Do you remember the ALS ice bucket challenge? It was so huge that there's rarely anyone who hasn't heard of it before. So just take it as an example of how powerful a fun, engaging idea can be and how it can change your life.
Why make a single video collab when you can turn it into a series? Creating two or more videos will have the viewers expecting more and waiting for you and your collaborator to release the following video. This is an excellent technique to score more views. Create an engaging storyline, and ensure to post the first video on one channel and the second to the other channel. That's how both creators will benefit from each other's subscribers. Remember to create an intriguing ending to the first video so that the viewers have a reason to await the second one eagerly.
If you're looking for collab channel theme ideas, just focus on what you love and know the most. For example, it can be your favorite music genre, game, movie, new episode of your favorite series, travel destinations, and much more. You and your collaborator can also comment on events that occurred, share your honest opinion, but make sure that you're following a theme. This can easily turn into a series of videos, especially if the first one does well in terms of engagement. Another smart tip is to film two videos, and you can release the first one, and the collaborator can post the second one. Ensure that they're posted at the same time and promote them to your followers.
Gaming channels can easily enjoy the benefits of collaborations if they decide to create content with other YouTube gamers. There are so many amazing ideas, including talking about your favorite games, sharing unique tricks, playing the same game at the same time, learning from each other, old games, walkthroughs, and much more.
Games are huge on all platforms, but you can attract significantly more subscribers if you pair with another content creator.
You can't go wrong with product reviews. This type of informative video is so useful for viewers and can boost your numbers if you choose the right collaborator and topic. Stick to your niche, and talk about products that you've actually tested so that your content is on-point and you're not reviewing products you've only read about. If your subscribers notice that you're dishonest, it can impact your engagement.
Talking about products that were just released is the perfect growing opportunity since not many YouTubers and bloggers will have released a review about it. When people search online your content will pop up, and it can turn into a popular video that will benefit all collaborators.
If you ever run out of collab video ideas, just do a tutorial with another video creator. Just like reviews, tutorials are huge, especially among the beauty and home improvement community. How-to videos will always score you more views, especially if your guides are detailed and useful. Also, collaborate with channels in the same niche and YouTubers that have knowledge on the topic.
Currently, niches such as tech, cryptocurrency, beauty, home improvement are on-trend. If your channel is associated with these topics, you should start crafting potential video titles and search for collaborators.
Cross-channel hosting is another huge trend right now in the YouTube community. You get to host someone else's channel and post a video on a topic that you both agree on. They'll also work on a video, and you'll post theirs on your channel. Although both of you won't appear in the same video, it's still considered collaboration and an excellent idea in times of a pandemic. The content has to be relevant to the channel, informational, and engaging. Once your collaborator posts your video, the majority of their subscribers will get familiar with your work, visit your channel to subscribe, or visit it to view the new video you posted.
Conclusion
YouTube collaborations are everywhere, so it's not strange that creators of all ranks want to follow the trend. There are numerous benefits of working together with another YouTuber to deliver unique content. Aside from getting higher engagement, more views, subscribers, you'll also make your content more interesting for your audience. There's no doubt that doing a collab will expose your channel to a broad audience, helping you grow in a short amount of time. It's essential that you choose the right collaborator and a person you truly enjoy working with.
With these YouTube collab ideas, you and your collaborators can potentially go viral and show why you're worth following. Some of the most popular collabs include Q&As, challenges, themed videos, series of multiple videos, gaming collaborations, product reviews, tutorials, cross-hosting, etc. Now it's your turn to start working on new content and finding excellent partners.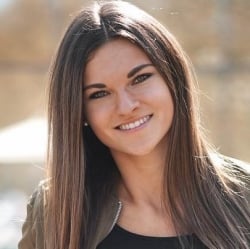 Latest posts by Anne Haynes
(see all)