YouTube is one of the biggest platforms in the world, with free access for everyone. Although they have set precise rules that every user needs to go by, it still happens that someone uploads a video that you might find offensive. That's when you can make sure that no one else feels the same way you do and report the content to the platform's staff.
Even though you need to be logged in from your account to report a YouTube channel or video, the youtube video report will be anonymous.But, before you take action, you need to know what content is considered offensive according to the platform's guidelines.
If you want to learn how to report a YouTube channel, below, you'll find a step-by-step guide to take you through the procedure. We also included a youtube video report guide for videos that you think are against the community rules. Now let's see what this streaming platform considers inappropriate.
When To Report a Video on YouTube:
You can't just go online and report any content you open just because you don't like it. According to YouTube's rules, these are the categories that violate the terms of use:
Hate speech against a protected group
Spam and scams
Harassment and cyberbullying
Child endangerment
Violent threats
Privacy
How To Report A YouTube Channel In 7 Steps
If you want to report a channel because you think it's violating the platform's community guidelines, the process is pretty simple. One thing you need to know is that you can't create a youtube video report it via your iPhone or Android phone; you'll have to log in through your computer.
Here how to report a video on youtube:
Start by entering the YouTube website on your browser.
Next, log in to your YouTube account and find the channel that you want to report.
Once you do, you'll see the About section located right below the channel's cover image. Click on it.
After you enter the About section, you'll see a gray flag icon right under the Stats section. Press on the flag.
Select the Report User option from the drop-down menu.
A new window will pop up where you have to select the reason why you're reporting the channel and click Next.
YouTube will also allow you to choose the channel's videos that you think are breaking the guidelines. Depending on the reason you'll pick, you will see another window pop up where you'll need to add additional notes or fill out the form.
This whole process shouldn't take more than a few minutes, as long as you really think that the account is violating the platform's guidelines and rules.
Don't expect YouTube to approve of the submission right away. It will first be reviewed by YouTube staff, and if the violations are real, they will consider further action.
How To Report A YouTube Video On Computer And Mobile Phone
If you think that a video is against the YouTube community rules and you don't think other people should see it because it's offending in some way, you can report a video without reporting the channel. For videos, you have two reporting options: via your mobile phone and via a computer.
Report Via Computer
Open your web browser and go to YouTube's homepage.
Find the video you plan on reporting and click on it.
Once you open the video, you'll see three gray dots below the video, located next to the Save button. Click on the dots and select Report.
A new window will pop up with a list of reasons to choose from. Select one and click Next.
Depending on the reason that you'll pick, YouTube will ask you to select a more precise cause from a drop-down bar or take you to a new window where you need to put in additional information.
As you can see, the process is quite similar to reporting a channel on this platform. Just make sure that your reasons for taking this action are justified and the video is really against the rules.
Report Via Mobile Phone
Open the YouTube app and find the video that you want to report.
Tap on the video and tap on the screen again, so that three dots appear in the top right corner.
Tap on the dots, and you'll see a Report button that you need to choose.
Pick why you want to report this video.
Add additional information requested by YouTube to finish the report.
Conclusion
YouTube is a platform with over 2.1 billion users worldwide. Although this platform is very strict with the guidelines and community rules they set, some users still decide to post inappropriate content. That's why if you ever think that a channel that you visited or videos that you viewed is in some way offensive or goes against the guidelines, you can feel free to report them.
If you didn't know how to report a YouTube channel or a video, we hope that our detailed guides helped you learn. Unfortunately, channels can only be reported through your computer, while videos can be reported via your computer or mobile phone.
If you've been working hard on your YouTube channel, but you're not sure how to get more subscribers, it's time that you get in touch with our team of professionals at TubeKarma. We will grow your numbers organically, increase your social presence, and help you earn more. If you want to see what we can do, check the client testimonials on our website and click on the free three-day trial option to get started.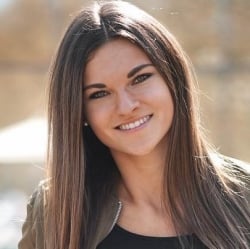 Latest posts by Anne Haynes
(see all)