High-quality videos are the starting point for creating compelling content on YouTube, and while many seasoned content creators are well-versed in the techniques for creating those videos, other people are still perplexed why their content isn't up to par.
You must evaluate if the blurry YouTube video is the result of a technical issue or whether the problem stems from the content you are uploading to the site.
During this session, you will learn how to fix blurry videos quickly and put yourself on the path to gaining more followers and growing your YouTube channel quickly.
Let's get started since there is a lot you can do to improve the clarity of your video if you follow these steps.
Why Is YouTube Video Blurry?
When you try to watch a video on your phone or computer, you may notice that grainy videos occur from time to time. This might be because of internet connection issues or because of low-quality video.
Here are a few reasons to think about it:

Slow internet connection – If you have a poor internet connection, the video may play in low quality and seem blurry as a result.
For the greatest results, YouTube requires fast and dependable internet. So you may need to run a speed test, reset your router or check with your internet service provider to see if there are any improvements to the plan you are subscribing to.
The video was uploaded recently – If you notice that the video is blurry and that it was posted just a few minutes ago, you should allow YouTube some processing time. It takes around 30 minutes to upload videos in HD definition, which is a noticeable improvement.
Video quality is not set – If you are one of the millions of people who watch YouTube videos every day, you may have noticed that the platform offers a few alternatives and playback settings. 
One of these selections will change the video quality to high or low, and the video snippets will be blurry or clear as a result.
There are problems with your computer – Some problems, such as outdated video card drivers or malware, might cause online videos to seem blurry. This is why antivirus and driver updates are critical not only for data security but also for making videos clearer.
How to fix blurry videos?
Now that you know what causes blurry videos when you try to watch them on YouTube, you can concentrate on what causes your video to blur and ruin all of your hard work.
So keep reading to get the greatest options and answers.
Why are my YouTube videos blurry on my phone and how to fix it?
Videos you've put on YouTube may be blurry due to a variety of causes, the most important of which is the equipment you used to capture the clip.
We'll concentrate on that because most of us now use our phones to produce and view videos.
Because of the following factors, videos on your mobile phone may appear blurry:

You filmed a high-speed clip, therefore the original video isn't good enough;
Before you made the video, you did not maximize the quality settings;
Quick movements and unsteady hands might create blurry issues in the footage;
The videos are not stored or downloaded properly from the cloud service;
You might have compressed the video by sending it via some apps;
As you can see, there are several possibilities, but the good news is that you can simply resolve them.
Here are some measures you may do to improve your phone's blurry video:
Restart the device – This frequently cures many problems with corrupted videos, and you may try it before adopting other remedies.
Use third-party apps – Some apps may enable you to modify the video before sending it, which can be a wonderful way to fix blurry video shots.
Use good cloud storage – Cloud storage is one of the key variables that might harm data when you record videos. This is why it is critical to select the finest one and download the video securely.
To transfer videos, use Dropbox or email – This will save the original videos and their quality, making them seem crisper and less blurry.
If you want to fix blurry videos, the best thing you can do is use your computer.
How to Fix Blurry Videos on the Computer?
When you produce your favorite video and upload it to your PC, you may find that it is blurry and of poor quality. This implies that if you post it to YouTube in this manner, the outcomes will be the same for your visitors.
Because YouTube is all about incredible and high-quality videos, you must fix the damage before uploading. This ensures that your video is attractive to view and that your YouTube growth is unrestricted.
Before we start it's a good idea to check your computer's RAM. If it is full, the video will not be played in maximum quality.
Use editing software – There are numerous apps on the market that can help you restore those low-res videos and make them look brand new. 
Editing software, such as Filmora, Adobe Premiere Pro, and others, will allow you to restore footage that is blurry due to the camera settings.
While it may cancel out some video noise, bear in mind that the ultimate solution will never be flawless, but advanced video repair is possible.
There is software available to restore the harm caused by storage and another compression scheme. All you have to do is submit the files to the program and wait a few minutes for it to fix the harm. There is typically a quality option available, and the repair process takes only a few minutes.
Here are all the steps:
Start the program of your choosing.
Click the "Add" button to add the video.
Choose the Video Repair option. This will start the application.
You can watch the restored video and determine if it's acceptable.
If you are happy with the results, click "Save."
Keep in mind that some apps have extra mending tools that might help you improve your films even more.
All of the strategies listed above will make the videos sharper, but keep reading to learn how to improve them while filming.
How to Make a Blurry Video Clearer?
YouTube video makers are not necessarily professionals, and it takes time to understand all the ins and outs of the industry. This is why it is essential to initially understand a few basics about video production.
When you publish an unprofessional video on your channel, it will be hard to modify it and make it appear professional.
Prepare before you film – Some video clips are created in a rush, but if you want to earn views and money on YouTube, you must approach the video creation process more seriously. 
This is why planning is essential. Find the ideal equipment, lighting, and, most crucially, appropriate settings of your recording device.
Enable picture stabilization – Most blurry videos are recorded in this manner because the filmmaker had unsteady hands and the end result was not clear enough.
Fortunately, most devices allow you to apply stabilization to your footage, which may be a wonderful method to record on the go and while moving. The program stabilizes the image, and the video is considerably clearer.
Use the correct video formats – Before you begin creating video for any site, including YouTube, you must first understand everything there is to know about formats.
The MP4 format is the safest option because it is compatible with most devices and systems and performs well when transferred and compressed.
How to prevent blurry videos?
Now that we've established the fundamentals of high-quality video, let's look at some tips and methods for avoiding blurry videos in the first place.
Use correct filters – Filters are really essential, but you should stick to the basics in order to preserve file integrity and make those videos seem great on the first go. With so many filters available, it's better to try a couple and discover which produces the best results.
Record in high quality – It should go without saying, but selecting the high-quality setting will yield the best results. When videos are made in a hurry, this might be one of the primary causes of the blurry image. Low-quality videos also look less professional and the chances are that your viewer will not stay until the end.
Clean the camera lens – This tip is sometimes forgotten by inexperienced video makers, but maintaining your lenses clean is critical. Because even the smallest smudge can cause the video to seem blurry, and there is no way to fix this. So, before you begin filming, clean those lenses well.
Final Thoughts
The subjects we discussed today were numerous, and you should now understand that there is a distinction between videos playing blurry on YouTube and videos playing in low quality on your devices.
The good news is that you can overcome any problem if you have the proper tools for video repair and expertise.
Making high-quality and interesting content is essential if you want to create amazing YouTube videos and be a part of the creative community that exists on the platform. A skill like this is not something that can be learned immediately, and it may take some time to become better than your competitors. However, with our in-depth advice, you are one step closer to being a household name on YouTube.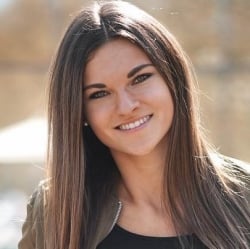 Latest posts by Anne Haynes (see all)