Thanks to YouTube VR, virtual reality is officially one step closer to your home. This sub-app of the platform is getting more popular by the day, and you can probably already guess why. VR isn't only a concept used for gaming, but it's becoming an excellent way of entertainment, learning, and much more. Ever since YouTube released its VR feature, users have had an opportunity to experience it via mobile devices, PCs, and headsets. In today's blog post, we'll cover all about virtual reality videos and how you can watch them on YouTube. 
What Are Virtual Reality or VR Videos?
VR videos, or virtual reality videos, are exactly what the name suggests. It's a type of video content, an immersive film that takes you into scenarios that feel so real and authentic that will make you feel like you're actually there. So instead of watching stunning views on National Geographic, you can start using VR on YouTube, which will be an experience as close as the real one. 
YouTube VR is an app from the platform that offers a diverse library of content that belongs to the virtual reality world. The video quality is surreal, and as we already explained, it takes users to a whole new scene away from the real world. Thanks to this app, you can transport to other locations, engage with characters, interact with objects, etc. As you can see, an immersive video lets you fulfill your dreams without being physically present somewhere.
Features of YouTube VR Videos
What makes this app so unique, and why should you start using it? If you're interested in diversifying your content, giving your followers something new to look forward to, and growing your channel, these videos are a popular novice. 
Available for mobile and desktop users: one of the best things about this immersive, animated experience is that you don't always need a VR headset to enjoy the videos. Although the initial purpose of VR on this platform was using it with a headset, YouTube makes it available for mobile devices as well. You'll still need a headset, but it will be much smaller, affordable, portable, and you can take it anywhere with you.
Tutorials and guides: the platform offers free guides and tutorials for content creators to create or watch VR videos. YouTube makes your access to virtual reality content so straightforward that even people without experience and individuals who aren't tech-savvy can tap into VR.
Watch, create, share: joining the immersive experience doesn't mean that you can only watch these videos. It also means that you can create them and share them with your audience. If you're not ready to produce this type of content, you can simply get a headset and follow your favorite creators.
Play around with different angles: while creating your virtual album experience, you can play with 180-degrees and 360-degrees videos.
Voice command: there's no need to type the name of the video you're looking for because the app supports voice commands.
Types of VR Videos
Monoscopic
Monoscopic videos create a single image that is meant for both eyes. It doesn't offer the same high quality as stereoscopic filming does, and the image is not as real. Nevertheless, this format is still used today, mainly because it's more affordable than the other alternatives.
Stereoscopic 3D 360 Video
YouTube allows you to upload three types of 3D videos: rectangular video, VR170 video, or 360 3D. Stereoscopic videos deliver two pictures, one for each eye. That's the same concept our eyes use to see in real life, so the picture is much more realistic.
VR180 Or 180 3D Video
Unlike the previous video type, stereoscopic VR180 videos are focused on a 180-degree view. These videos face the front, and there are many inexpensive cameras you can get to create a VR180 animated film.
What Is Required to Watch YouTube in VR?
The devices and apps you'll need to watch 360-degree videos depend on whether you'll be using your phone, PC, or standalone headsets. When you plan to use your mobile phone, you first need to download a suitable browser. Chrome, Opera, Edge, Firefox will all work. However, Safari is not supported; therefore, you have to download one of the previously mentioned browsers. The next step is to find a mobile viewer, then start watching. 
If you opt for dedicated headsets, you'll need to download a virtual reality video player that's compatible with your device. You should also download the YouTube virtual reality app, and you're ready to go. We have to mention that this isn't the same as the regular YouTube app you already have, so ensure that you download the right one.
How to Watch YouTube in VR?
Mobile Users
Mobile phone users have it slightly easier than people who want to use a dedicated headset. As we mentioned, mobile headsets are lighter and portable, so the process is quite straightforward. In addition, they're available for both iOS and Android users. Many brands produce these devices; however, this guide is aimed towards Google Cardboard users. 
Google is the owner of YouTube, and their first tap into VR for smartphones was the Daydream platform, and Daydream View was the first headset. Shortly after, the platform was discontinued, and Google released Cardboard, an affordable and simple-to-use platform. 
Log into your YouTube account on the mobile app.
Go through the YouTube VR videos you want to watch and select one.
Find the Cardboard icon on the screen, then tap on it. It looks like a mask with two eyes and a nose. If you can't see the Cardboard icon, you should find the three-dot icon and tap on it. Next, you should choose Cardboard. After doing this step, you'll always see the icon next to your videos.
Get your headset and place the phone inside the headset.
Start watching your video.
Before you place the phone in the device, you'll notice that the video is divided into two halves. There will still be two images once you put the phone in the headset, but your eyes only perceive a single one.
Standalone Headset
If you prefer using a dedicated virtual reality headset, then you'll need to purchase one before you start watching videos. It can be a tethered or a wireless headset, and there are many options to choose from. These are some of the most popular devices for YouTube VR: Oculus Rift, Samsung Gear VR, Valve Index, HTC Vive, etc. 
After getting your device, here's what you should do:
Turn on the headset.
Open the VR app, which you'll either already have on the device, or you'll need to download it.
Put the headset on your face.
Choose the video you want to see and play it.
Conclusion
YouTube is one of the most diverse platforms on the internet with various services, including YouTube Music, YouTube TV, YouTube VR, etc. One of its most exciting apps is Virtual Reality, which provides users with a superb experience. These aren't the standard videos you're used to seeing but are immersive content that will make you feel like you're walking on a beach with your toes dipped in the sand or skiing on the highest mountain. Although virtual reality is still a fresh concept for most people, being able to experience it with a single headset device and your mobile phone makes things so accessible and approachable.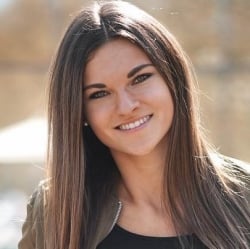 Latest posts by Anne Haynes (see all)