What is the importance of YouTube tags, and how can you create viral hashtags? Like any other social platform, YouTube uses search engines to rank content. Hashtags are like keywords that will help the engines recognize your videos and place them in front of the audience. These tags also help your viewers know more about your content and sort the videos into categories. Start reading to learn about the different types of tags, where to search for them, how to add them, and how they help you create authoritative content for your fans. 
​​And when you're finished, take a look at our other YouTube guides:
Video tags on YouTube are the same as hashtags on other social media platforms. These tags help users discover your video content and make it easier for you to sort it into categories. The video hashtags can be a part of the video title, video description, or above the title. In addition, the tags can be a single word or a phrase that is relevant to the type of video and the content you're posting. Hashtags are one of the best ways to reveal video topics for your audience even before they start watching the videos. Considering that YouTube is one of the largest search engines, you must learn about tags, why you should use them, types of tags, find relevant ones, and add them to your videos.
YouTube SEO is just as developed and essential as SEO on other social media sites. When people search for something specific on YouTube, they can enter a hashtag in the search bar and scroll through the results. The more relevant your video is, the higher it will be on the list, and you'll get more user engagement, video views, etc. As you can see, finding and using the right video and channel tags can be very important for your success on this platform.
YouTube tags are important for so many reasons. Yes, video quality is a must if you want to be a successful channel owner, but optimizing your content with video keywords and hashtags will make the content even more visible for other users. Here are some of the reasons why you should add hashtags:
Users Get A Better Idea About Your Videos
When you enrich videos with hashtags and descriptive keywords, people will know more about your content. It doesn't matter if you're focused on music videos, gaming content, everyday life vlogs, or reviews; hashtags are essential everywhere. When you add these words, your content will appear when people search for one of your included tags. This can eventually lead to a higher ranking, and your YouTube channel can earn more money.
Get More Views
Popular videos often include hashtags in their description or title. If you want to make your content more discoverable for everyone, this is one of the best and easiest strategies. Even if your videos don't come up in the top searches, they might appear as related content due to the tags you included. In other words, you'll get more views, engagement and reach a much broader audience. In addition, adding tags is for free, so why not give it a chance to grow your following?
Divide Your Content Into Categories
Dividing your videos into categories can be great for your channel and your followers. You can place your content in playlists, but you can also divide it into different categories if you use hashtags. This means that a person can listen to an entire category of your songs or videos if they click on that specific hashtag. So, this is great for your numbers and very easy to do. There is no rule about categorizing videos; it's all up to you.
How can you add hashtags to a YouTube video? The process is so easy, and everyone can do it. Adding the tags takes only minutes, but it can significantly influence your engagement. It's a step you should do when uploading your video and after doing the research.
The first thing is to add a hashtag to the title of your video. If you used a main keyword in the title, you should add an important hashtag. If not, you should use the main keyword as a tag.
After you're done with the title, you can add a few hashtags to the description as well. These tags are at the end of the description and can include keywords that you didn't add in the title. You can also add relevant tags that you discovered during your research.
What are the rules you should follow to create and find great tags? These four tricks should be on top of your list:
Mix Specific And Broad Keywords
Should you opt for broad or specific tags when adding tags to a single video? The best alternative is mixing the two. The broad keyword will give users an idea of the main category of the video, so they'll know right away what it is about. As we previously mentioned, categorizing videos can increase your engagement and views.
On the other hand, specific words are used to describe the content beyond the category. This can be a single word or a phrase that will let people know what they should expect. The specific hashtags explain the different things that you cover in your content.
How many tags should a video owner add? Although adding hashtags is essential for the growth of your social channel, you shouldn't overdo it. According to Google, you should never use more than 15 hashtags per video. The search engines will completely discard all the tags in your description or title if you do.
Since adding 15 is way too many, how many should you add? According to most experts, using the three to five choices that appeared during your keyword search should be enough. Place one or two in the title, and use the remaining in the description. Always include the primary keyword as the first tag, followed by the remaining relevant hashtags.
Use YouTube Search
If you start typing tags into the YouTube search bar, you can get a better idea of the popular hashtags at the moment. This is one of the easiest ways to enrich your content with relevant words people search for and help it rank higher. Even if you don't know where to start, just type words related to your content and the video category. This search will provide you with popular topics and inspire your next video. If you join the trend early, you can rank high and score excellent engagement.
Did you know that creating a branded hashtag can inspire people to look at many of your videos in one sitting? This shouldn't be a focus keyword but a search term that's recognizable and related to your channel or business.
How do you perform a hashtag search, and what makes hashtags relevant? We prepared a few tips and tricks to help you pick the right words among the millions of searches and the best ways to perform a search. However, before we get into detail, we have to mention that YouTube's search option we mentioned before is one of the best places for finding trending hashtags. All you have to do is type # and wait for the results.
Use Keyword Research Tools
A keyword tool can be very helpful when looking for hashtag ideas. There are numerous free tools you can try and get a list of keywords you can further explore. Remember to include the top keyword in the title, then add two to three more in the description.
Try Trending Videos
Take a look at trending videos to find relevant keywords. Search through videos in the same niche as yours because videos in other niches won't make any sense. Put together a list of the top trending tags, then include them in your videos where possible.
Try Competitors
Look at your competitors and learn from their success. See the type of words they use and try doing something similar. You can also try using the same hashtags as competitors and see if they will work for you as well. You should focus on their most popular videos when doing the research.
Conclusion
As you can see, popular YouTube tags can take your content to a whole new level and significantly boost your engagement. Although it sounds like a simple task, finding the right hashtags can take time and a lot of trial and error. You have to remember to use tags no matter the type of content you post. After exploring all the sources of hashtags, you can create a list, then rank them. Include the top keyword in the title and the remaining tags in the description. Your work here isn't done; instead, you should track your metrics and see if the new hashtags impact your numbers.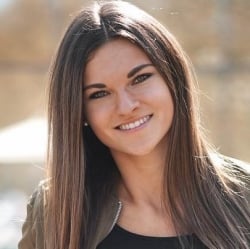 Latest posts by Anne Haynes (see all)