YouTube is available in over 100 countries worldwide, with over 2.3 billion active users. With a very wide range of audiences, adding closed captions (CC) and subtitles in your videos will greatly increase your number of viewers.
We'll show you just how easy it is to add CC to YouTube videos in this article.
What Are Closed Captions (CC)?
Closed captions are the text transcript or subtitles that appear on a video. These can be turned on or off to appear or disappear on the video while watching. Open captions' text, on the other hand, is embedded in the video itself and cannot be removed or turned off.
Captions are done in the form of direct speech-to-text of the video's audio content including sound effects or a translation of the audio into a different language altogether.
Benefits of Captions and Subtitles
Larger audience
Videos with captions help people who speak a different language, deaf, and hard-of-hearing understand what is being said and what is happening in the videos.
Subtitles on YouTube, or the translation of the closed captions into different languages, are available in English, Dutch, German, French, Italian, Spanish, Portuguese, Russian, Turkish, Japanese, Korean, Indonesian, and Vietnamese languages. Having translations in these major tongues will greatly increase the audience of your videos.
More viewers
Putting captions and subtitles in your videos is quite useful in gaining more viewers and followers. About 92% of Americans watch videos on mute. Some just rely on captions to understand the speaker in the video. By including people who will otherwise not be able to enjoy a video without the text, you are ensuring that you will have a larger pool of audience.
Video SEO
Closed captions make your videos easily searchable online. Search engines are able to pull up your videos because they can crawl or scan the words in your captions. Therefore, including SEO keywords in your transcripts will help your video be more visible in search results.
Add captions or subtitles to your YouTube videos
Fortunately for YouTube channel owners, the platform has integrated closed captioning features in its artillery of tools for content creators. No need to use or pay for third-party transcription software. You can easily add closed captions to videos within YouTube Studio.
Create subtitles and captions on YouTube:
On a web browser, sign in to your account and go to Creator Studio.
On the left side menu, click on Subtitles.
Choose the video you would like to add captions to.
Click on ADD LANGUAGE, and then select the language you want.
Below Subtitles, click ADD.
You can then choose how to add your captions:
Upload file
You can upload a supported closed caption file directly. This file contains the script or text of what was said in your video including the timestamps when each line is said. It can also dictate the position where the text should appear on the screen to make sure nothing important is being covered in the video. Having a caption file ensures that your subtitles will appear at the correct time and position. This is best for videos that have poor audio quality, too much background noise, or ones that are longer than an hour.
To use this method:
Click Upload file.
Select With timing or Without Timing then click Continue.
Select the closed caption file you want to upload.
Click Save to keep your changes.
Auto-sync
If you do not have a ready CC file with timestamps, you can just paste the text or upload transcript files and the tool will automatically sync it with the video. This method is only good for videos that are less than one hour long.
To use this method:
Choose Auto-sync.
Input the text in the video or use a transcript file.
Click ASSIGN TIMINGS.
Hit SAVE AND CLOSE.
Type manually
As indicated in this choice, this method requires you to manually type in your text or copy-paste your transcript at the right timestamp.
The platform's built-in transcription tool is easy to use. You can save some money by not hiring another person to do it for you.
To use this method:
Click Type manually.
As you watch the video, type in your text at the correct timestamp.
Once you're done entering the text, hit PUBLISH.
Here are some shortcuts you may use to work more efficiently:
Shift + Space: Play or pause the video
Shift + Left Arrow: Go back 1 second
Shift + Right Arrow: Go forward 1 second
Enter: Add the caption you just typed
Shift + Enter: To add a new line
Shift + Up Arrow: To edit the previous caption
Shift + Down Arrow: To edit the next caption
Auto-translate
This is the last method that you can use to add subtitles to your videos. YouTube uses speech recognition technology to automatically translate the audio into text. The languages in which auto-translate is available are English, Dutch, German, French, Italian, Spanish, Portuguese, Russian, Turkish, Japanese, Korean, Indonesian, and Vietnamese.
The auto-translated subtitles will greatly help people who have a different language, the deaf, and people with a hearing disability. In the meantime, this feature is only available in the English language.
However, the technology is not yet foolproof. Poor quality audio, mispronunciations, and words that sound alike can lead to erroneous translations. It is still advised to create or upload your own captions.
Using auto-generated captions is very useful when you stream live videos. Viewers have the option to turn on automatic captions while watching your live video.
To use this for videos you have uploaded:
Click Auto-translate. YouTube's speech recognition technology will do all the work.
Check for correct spelling and review the generated captions. You may edit or remove parts of the caption or adjust the timing to make sure everything is exact. Just click the Edit button.
Extra tips for closed captioning
To make life easier, it is better to have professional captions of your video ready for upload. This ensures that your video will have quality captions each time.
If you do not have the time or patience to make your own closed captions, you may hire a freelancer to transcribe them for you. You can search for someone on Fiverr, LinkedIn, and the likes.
You may also use third-party closed captioning services like those of cielo24 (costs $1 per video minute), Rev (costs $1.25 per video minute), and 3Play Media (costs $1.75 per video minute). These are already well-established companies so you can be assured of the quality and reliability that you're paying extra for.
Final thoughts
Creating transcripts for your videos may seem tedious and too much extra work. However, learning how to add closed captions to a video will reap a lot of benefits. You may even call it a growth hack for your channel. So, go the extra mile and start including captions into your videos.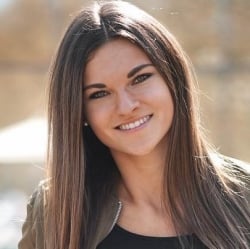 Latest posts by Anne Haynes
(see all)